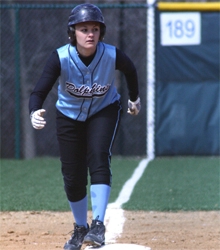 The College of Staten Island women's softball squad dropped a pair of non-conference contests today, falling on the road to Drew University, 9-1 & 9-3, in the doubleheader in Madison, New Jersey.  CSI fell to 9-15 overall, while the Rangers improved to 11-15 with the two wins.
Drew got off to a healthy, 4-0 start after the first frame, getting early to CSI starter Victoria Procopio.  Jeramie Barletta scorched an RBI-double while Kate McNamara added an RBI-base hit for the Rangers, who were further aided by three Dolphins errors.  
The Dolphins were able to scratch a run in the second to respond when Stefanie Solari led off with a triple against Drew starter Casey Reggiani, which was followed by an RBI-single by Danielle Ponsiglione.  Reggiani, however, would settle from there, not yielding another run, as Drew added two in the bottom on the second frame to extend the lead to 6-1.
After holding Drew to only a single hit over the next two frames, CSI did yield another three runs in the fifth, prompting the end of the game.  Michelle Cozza doubled in the first run, while Barletta's single ended the game after CSI was only able to register one out.
Reggiani allowed the lone run on five hits to earn the win while Procopio suffered the loss, allowing 9 runs (five earned) on 11 hits, fanning three.  McNamara finished 2-of-3 from the plate with two RBI and a run scored.
A close second game was broken open by a six-run sixth inning for the Rangers, who completed a come-from-behind victory against CSI starter Solari.
Both teams scored a single run in the second.  Samantha Tallerine registered in Ponsiglione for the Dolphins, while a Cozza double brought in McNamara for the Rangers.  CSI then took a 3-1 lead when it scored a pair of runs in the third inning.  Brittany Smith earned on and was plated by an Amanda D'Amato triple, and later, Kaitlyn Flynn singled home D'Amato to add to the lead.
Drew got even in the fourth with a pair of runs and the game then moved to the later innings.  Down to their final six outs, the Rangers erupted for the six-spot in the sixth.  Cozza got things started with a big two-run single to start things off.
Solari took the complete game loss, while Drew starter Laura D'Ornellas took the win, tossing a 9-hitter.  McNamara was the hero at the plate, going 3-3 with three runs scored.
CSI will next be in action this coming Wednesday, when they travel to St. Joseph's College (LI) for a 4:30pm, non-conference, doubleheader.