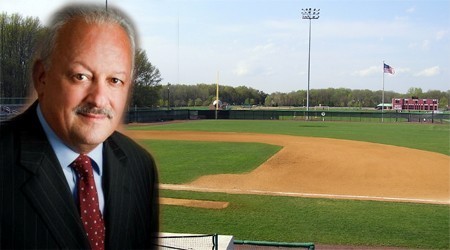 The College of Staten Island will be holding a special dedication ceremony on Saturday afternoon, renaming the CSI baseball grounds the Tomas D. Morales Baseball Field in honor of the former CSI President. The dedication will take place one-half prior to first pitch, at 11:15am, with Morales expected in attendance prior to CSI's matchup with The City College of New York.
Dr. Morales, who came to the College in 2007, is now President of California State University of San Bernardino, a position he took over in August of 2012. A staunch supporter of athletics and recreation at the College, Dr. Morales' support resonated with the many athletic administrators, coaches, and most of all, student-athletes, who grew under his nurturing and leadership of the program over the half-decade.
A series of speakers will address the crowd on Saturday, among them student-athlete and CSI Baseball senior Bryan Moreno. Formerly named the CSI Baseball Complex, the facility is the first athletic field on the campus to be officially named after a public figure.
Admission to the field renaming and the CSI baseball contest against CCNY is free for all spectators. Ceremonies will begin at 11:15am sharp, with first pitch tentatively scheduled for 11:45am. In a fitting end to the ceremony, Dr. Morales will throw out the first pitch ever at the newly-named field.