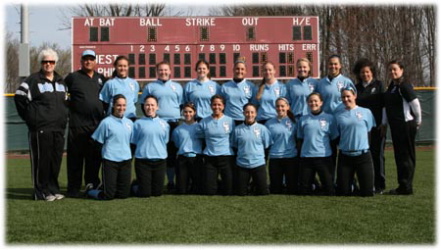 The Dolphins defeated #4 Brooklyn College in the elimination game at 12 Noon, 10-0, before being defeated by #3 Baruch College, 5-0, in the CUNYAC/Applebee's Championship game after a 3 ½ hour rain delay.
With a quick top of the inning in game one, a sac fly RBI by Danielle Ponsiglione in the bottom of the inning scored Brittany Smith to give the Dolphins their first run.
CSI had a big third inning scoring five runs behind a Stefanie Solari sac RBI and two run singles by both Christine DeCarlo and Victoria Procopio.
The Dolphins added four more in the bottom of the fourth as Smith started the inning by reaching on a single. Kaitlyn Flynn was intentionally walked, making way for Solari who slammed a three-run homer over the left center fence. DeCarlo closed the inning with a single to right center to put the score at 10-0.
Despite allowing a hit and allowing three runners on, CSI got out of the top of the fifth inning taking the win with a mercy rule.
Ponsiglione earned the win totaling five strikeouts while Brooklyn's Oneto suffered the loss.
After a 3 ½ hour rain delay to begin game two, Baruch wasted no time getting on the scoreboard scoring two at the top of the first. Melanie Pellegrino led off with a walk then scored as Toniann Donde slammed a double into left field. Nicole Flint followed with a double down the left field line to score Donde for the 2-0 lead.
At the top of the third, Donde reached on a double before the Dolphins would make a pitching change to replace Solari on the mound with Ponsiglione. Flint again doubled scoring Donde to stretch the lead to 3-0.
Baruch sealed their win with two more runs in the top of the 7th inning behind an Olivia Auman two run homer.
CSI didn't get a hit until the fourth inning leaving two runners on at innings close while Flint allowed just two more hits for the Dolphins.
Baruch's Flint was awarded MVP of the Tournament with a fine batting performance while pitching a perfect game and allowing just one run in three games.