STATEN ISLAND ADVANCE – Students can sit in a classroom and listen to their professors discuss features of the Earth, but until they go out and see things for themselves, it's difficult to retain the information — like the way the Richmond Creek Bluebelt absorbs water.
Last Thursday, College of Staten Island (CSI) professors and geology experts Dr. Alan Benimoff and Dr. William J. Fritz, who is also interim president at the Willowbrook-based school, led about 30 geology class students to various points on Staten Island to explain the geological wonders of the borough.
Dr. Benimoff, professor of the class, and Dr. Fritz first brought the students to Graniteville Quarry Park. They then stopped by a section of Castleton Corners to explore the Serpentine rock near the Staten Island Expressway, which serves as the underpinning of some of the highest points of Staten Island, including Todt Hill.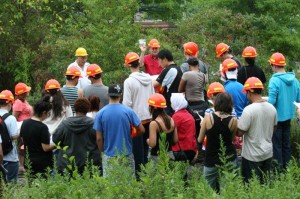 The group then bussed down Rockland Avenue to Egbertville, where they were visited a section of the Richmond Creek Bluebelt at the intersection of Rockland and Meisner Road, which connects with Manor Road in Sea View.
Dr. Benimoff and Dr. Fritz explained to the students that the Bluebelt is an area where existing streams play a role in managing storm water.
It was designed to preserve natural drainage corridors, including streams, ponds and other wetlands. Preservation of this network allows the land to convey, store and filter storm water.
"On Staten Island," said Dr. Benimoff. "We're extremely lucky. It's not like Brooklyn or Queens, where they paved everything over. We have this giant space here that can be used for storm water management, and recreation trails go through here. And what's really nice about this spot is the New York City Department of Environmental Protection had that vision of open space here."
The tour continued along to another section of the Bluebelt, where Lighthouse Avenue and St. Andrew Road meet in Richmond.
At that location, the group was exposed to the U.S. Geological Survey (USGS) Stream Gauge, which provides extensive information about mapping, resources, hazards and planning throughout the country. The Bluebelt is included within the USGS and enables folks to understand groundwater, rainfall, and stream flow.
The tour continued to Conference House Park, where both professors showed evidence of a glacier that was present in Tottenville 22,000 years ago.
"We have such diverse geology here," said Dr. Benimoff. "When I think about it, it's incredible. We have igneous rocks, metamorphic rocks, glacial sediments, wetlands, bluebelts. It's fantastic."
[youtube]http://www.youtube.com/watch?v=b7lsc-FZyCs[/youtube]Dr. Fritz, author of "Roadside Geology of the Yellowstone Country," said, as interim president, he's making efforts to connect the college to the community.
"And that includes not only community civic organizations, but having students take advantage of the unique and educational opportunities that we have on the Island, especially for a geology trip like this," Dr. Fritz said. "Staten Island clearly has the most diverse geology of any of the boroughs in New York."
The two agreed that people can talk about the material all day, but in the end, they need to get out and see it firsthand to fully understand it.
"Most students taking a course like this take in a whole new world," said Dr. Fritz.
Junior Corey Orazem of Silver Lake called the trip interesting.
"Instead of looking at a picture in a book, where the interaction isn't the same, we're here, seeing it," he said. "This is about the study of the Earth, and you don't get to see that in the classroom."
This story was originally published in the Staten Island Advance on July 25, 2012 and is reprinted here with permission. All rights reserved.