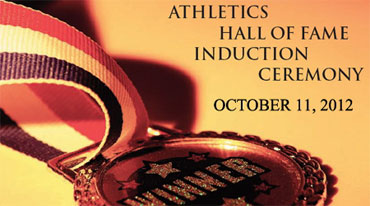 Years in the making, the College of Staten Island will be unveiling its inaugural Hall of Fame class in 2012, with the rousing event scheduled for October 11 at the Staten Island Hilton Garden Inn.  Invitations to the event will be available in late-August.
Over a year into the planning phase, the Inaugural CSI Athletics Hall of Fame had a deadline mid-May to entertain all nominees from the general community, and received dozens of entries overall.  A vast committee of 19 members representing a cross-section of CSI staff, faculty, and students, along with professional media and at-large members took in the breadth of the nominations, ultimately naming its 2012 class of seven individuals who tallied over 100 years of professional service to both CSI and Staten Island Community College athletic programs.
Ira Sweet, an administrator at both campuses while spending seven years as men's basketball coach, boasted 51 years of service to the school until his retirement in 2000 headlines the event, along with fellow coach Evan Pickman, who took over duties from Sweet in 1978 and manned the Dolphins for six incredibly successful seasons.  Fellow coach extraordinaire Elizabeth "Betty" Zwingraf spent 42 years at both SICC and CSI coaching women's volleyball, tennis, cheerleading, basketball, and softball, where she ultimately retired as an assistant coach in 2012.  Rounding out the awards from the coaches and administration is Sebastian "Sonny" Grasso, whose versatility saw him serve in many capacities during his 18 years at CSI, where he still remains the only CUNY coach to win championships in both baseball and softball.
Four year basketball standouts John Cali (1994-99) and Jacclyn Rock (2001-05) practically rewrote the record books in their respected sports during their days at CSI and will take the stage as inaugural members as well, alongside CSI harrier Jeff Benjamin, who anchored the CSI cross-country team from (1983-87) and has since set the Staten Island racing circuit scene.
CSI Associate Athletic Director David Pizzuto, who serves as the Hall of Fame committee chairperson, will serve as Master of Ceremonies of the event, which will take place at the Hilton Garden Inn from 7-11pm on October 11, 2012.  Tickets to the event can be purchased for $100 by calling (718) 982-3169.  The ceremony includes a full three-course dinner with open bar, and will feature video highlights of CSI sports programs and presentations and words from the inductees and distinguished guests.
Most recently, the push for the Hall of Fame CSI and what it means to the College was featured on NY1 News.  A copy of that video is available at this address: statenisland.ny1.com/content/159392/coming-soon–the-college-of-staten-island-s-hall-of-fame