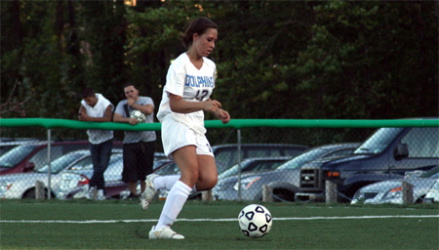 The Dolphins captured a 4-0 victory over Brooklyn College on Monday afternoon in conference play. CSI extends to a solid 6-0 conference record while Brooklyn falls to a 2-5 CUNYAC record.
At the 30 minute mark, Demi-Jean Martorano tallied the first goal for the Dolphins with a two pass assist from Samantha Wysokowski and Grabriella Galeano in a slide in kick that drew Brooklyn's goalie out of the box.
Fifteen minutes later, Martorano was fouled and awarded a penalty kick. Her shot went in to put the score at 2-0. Just five minutes later in the 48th minute, Martorano assisted Wysokowski in a goal with a pass from the right side for a deep shot goal and 3-0 lead.
Off of an assist from Wysokowski, Martorano's hat trick at the 50th minute put the score 4-0. With the goal, Martorano tied CSI's all-time record for most goals in a career with 53 goals. Fiosa Begai (2005-2008) also holds the record.
Jen Coughlin had two saves in goal for the Dolphins while Melissa St. Louis of Brooklyn had 16 saves.
The Dolphins will host Maritime tomorrow at 4:00 pm as part of their Senior Day as they honor lone senior Christina Jacob.