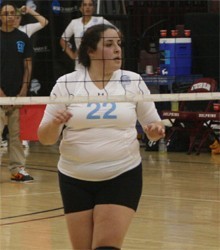 Rutgers-Newark defeated Dolphins volleyball, 3-0, on Saturday afternoon in New Jersey. CSI dropped three games by scores of: 25-13, 25-18 and 25-11. The fall to an overall record of 5-12 while Rutgers-Newark extended to a 12-10 record.
Pola Poskrobko stood out for CSI with nine kills and nine digs. Monica Concepcion saw four kills with eight digs while JeanMarie Lewandowski had 18 digs.
Rutger's Rachel Witt led all players in kills with 16 including eight digs. Jen Mendoza had 31 assists.
The Dolphins next match with be on Tuesday, October 16, at 7:00 pm as they face Lehman College in a conference contest.