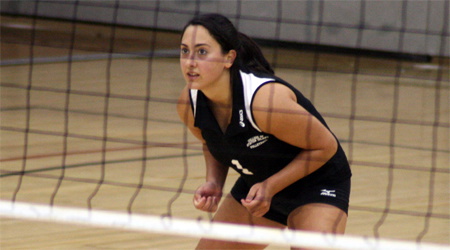 Individual CUNYAC/Con Edison Women's Volleyball All-Star honors have been announced and Dolphin's sophomore, JeanMarie Lewandowski has been named CUNYAC/Con Edison's Libero of the Year.
The libero is a player who specializes in defensive prowess. The primary stat for the libero is "digs" and Lewandowski not only led the team in that category, she lead the entire CUNY Athletic Conference with 4.42 digs per set and 230 overall on the season.
"I'm truly honored to receive this award," said the humbled recipient Lewandowski, "I tried to stay strong through all the obstacles we faced this season and I couldn't have made it through without the support of my team and coaches. To be noticed for my hard work is so rewarding"
Lewandowski had four games this past season where she garnered over 20 digs. She had 20, 26, 22 and 23 digs in matches against CCNY, St. Joseph's (BK), Bryn Athyn and Lehman College, respectively.
She was also tied for second on the team in total assists with 11 and third in service aces with 28.
"I believe that hard work always transfers to a great result," said Head Coach Atef Dosse, "Jeanmarie is a committed and hard working player who always plays with heart. She loves the game and she always goes over and beyond the basics, she loves to be better. Dosse talked Lewandowski's effect on her team, "She is one of the players that has the ability to play multiple positions and her teammates feel confident when she is in the court. As her coach I'm so proud of her and I see that she has a bright future as a volleyball player."
Dalliana Toussaint of CCNY took home Player of the Year honors, while Aimee Grossman, also of CCNY, received Rookie of the Year. Allison Stack of Baruch grabbed Coach of the Year honors.