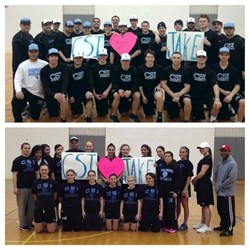 On Saturday, both the CSI Men's Baseball and Women's Softball programs will be taking the field for a cause that is close to home, going to bat for little Jake Schron and his family and the Heart 4 Jake cause.  Jake's story is one that is resonating not only to Staten Islanders over the recent months, but of the entire nation, as Jake has been the subject of national attention for his brave and courageous fight at Montefiore Hospital.  Born with an enlarged heart, Jake waited nearly four months for a donor, triggering the Heart 4 Jake campaign that not only raised awareness for his condition, but helped generated funds for his family, which has been by his side the entire time.  Jake is the son of Shannon and Andrew Schron.  Shannon enjoyed a sensational softball career on Staten Island, while her sister, Kelly, was one of CSI's all-time greatest players both at the plate and in the pitcher's circle.  A week ago Saturday, Jake received his new heart and is recuperating well.  Now more than ever, the CSI family is joining to cause to make Jake's transition a smooth one.
On Saturday, the CSI Softball team takes on Hunter College for a CUNYAC doubleheader beginning at 12 Noon, while a few yards away, the CSI Baseball squad will be squaring off against St. Joseph's College (Bklyn) for a 12 Noon doubleheader.  Following the softball twinbill, many high school alums from a cross-section of Staten Island high schools will be squaring off in an Alumni Game, all triggered to raise funds for Heart 4 Jake.  T-shirts and novelties will be on sale, as will raffles for incredible gift baskets, all donated by the teams and various businesses and local merchants.  Concessions will also be available with all proceeds going to the cause.
"Staten Island is like one big family, and to be able to help Shannon and Andrew, and to have people gather because they all love Jake is going to be a great opportunity for us to show our support," said CSI Softball Coach and lead organizer Dr. Stella Porto.  "We plan to have members of the family there, and to be able to do this small gesture for them, hopefully shows that we are all there for them in more ways than one."
Attendance to the venues and the contests is FREE of charge and raffles will be drawn throughout the game.  If you cannot make it to the game but wish to donate, please call the CSI Athletics Office at (718) 982-3169.