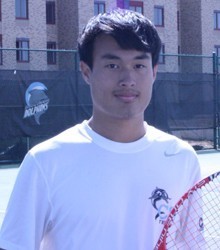 For the second time in his brief career with the College of Staten Island men's tennis squad, freshman Kolachok "James" Chuenpratum has earned the City University of New York Athletic Conference's Rookie of the Week citation. The Dolphins are rolling, having won eight straight, and Chuenpratum has been at the center of it all, holding it down with outstanding play in singles and doubles.
Chuenpratum took home honors after CSI's 2-0 week last week, which included wins against conference foes York College and John Jay College, both 7-2 victories. Against York, Chuenpratum dropped his decision in doubles, but followed up with a striking, 6-0, 6-0, blanking of YC's Michael Benvidez in the No. 4 spot. Two days later, Chuenpratum was perfect, teaming with Nick Zikos at No. 2 Doubles to score an 8-5 win in doubles and then posting a 5-7, 6-2, 11-9, come-from-behind victory over JJC's Yevgeniy Remennik in the No. 5 singles spot.
Most recently, Chuenpratum was a focal point of CSI's win over non-conference Ramapo College last night. In singles play with the match tied 4-4, Chuenpratum rallied in the No. 5 spot again with a thrilling 6-2, 4-6, 6-3, winner over Matt Giuliari, to clinch victory for CSI.
For the season, Chuenpratum boasts a season singles record of 8-2, which includes a 3-0 record at No. 4 and 5-2 mark at No. 5. He is an undefeated 5-0 in CUNYAC matches as well. In doubles, he has recorded an overall record of 5-6.
CSI plays again on Friday, April 12, hosting Baruch College for a CUNYAC-tilt at 3:30pm at the CSI Tennis Center.