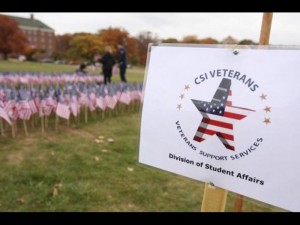 STATEN ISLAND ADVANCE — They are fallen but they are not forgotten.
The 6,747 [enlisted men and women] who have given their lives protecting our country since Sept. 11, 2001, were honored just before dusk Friday with a ceremony on the Great Lawn of the College of Staten Island (CSI) in Willowbrook.
The highlight of "Flags for the Fallen" was a sea of red-white-and-blue installed on the greensward over two days — one flag for each man or woman who died serving in Operations Iraqi Freedom, Enduring Freedom and New Dawn, said Ann Treadaway, the school's director of Veterans Support Services.
"We just tried to come up with the best way to remind people of the services and sacrifices of those who have served in the armed forces," said Ms. Treadaway, herself a U.S. Army veteran who served in Baghdad in 2003 and Mosul in 2005.
Vice President of Student Affairs Ramona Brown called the display of the flags, row on row, "compelling and beautiful."
"It speaks to the deep sense of dignity, pride and gratitude to all those who serve," she said. "Each and every service person, those living and those who have passed away, deserves our most humble gratitude and respect."
Friday's program included the national anthem, a bugler's playing taps and the lowering and folding of Old Glory by the U.S. Coast Guard Color Guard.
The 150-plus attendees were deeply moved.
"It's very touching because you don't realize the magnitude of [death] until you see all the flags laid out," said Dennis McLoone, county commander for the Richmond County American Legion. McLoone served in the Vietnam War, in which 58,000 Americans died.
"You realize this is still such a loss for the families and the troops and it really just brings to light that we are still at war," he said.
"If I can pay my respects in any way for people who risked their lives just to protect mine, I am all for it," said senior nursing student Diana Macaulay of Port Richmond.
Student Irma Gachechiladze of Brooklyn said the deaths of so many "is a big number for the 21st century. It makes me cry and appreciate what they do for us a lot."
The school is highly veteran-friendly, noted Ms. Treadaway. It recently established a scholarship for veterans and has a student population of 243 veterans and veterans' dependents. CSI Communications Director Kenneth Bach noted that for the fifth consecutive year, the school has been recognized as a Top Military Friendly School by GI Jobs magazine.
This story by Kiawana Rich originally appeared in the Staten Island Advance and SILive.com on November 08, 2013 and is reprinted here with permission.