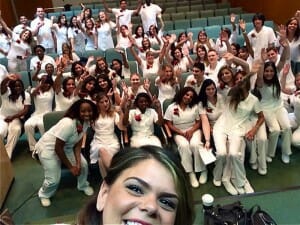 The College of Staten Island's Department of Nursing held its Nursing Pinning Ceremony in the Center for the Arts recently to honor the 61 nursing students who have completed their professional education this semester.
It was an especially proud moment for the nursing students, and faculty and staff, as the students' friends and families watched as their loved ones received their unique College of Staten Island AAS pins, signifying their membership into a selective group of professionals.
Dr. Mary O'Donnell, Chairperson of the Department of Nursing in the college's School Health Sciences, advised the graduates to "wear their pins proudly" as ambassadors of the CSI program.  Many of the graduates are nontraditional college students—several are parents or work outside of campus or hold previous college degrees or are second-career students.
Almost all of the AAS Nursing graduates have enrolled at CSI to complete their Baccalaureate degrees in nursing in order to better compete in the face of rising qualifications of employers of Registered Nurses in the New York metropolitan area.
Several graduates already have plans to pursue advanced-practice roles as Nurse Practitioners, and one student is already preparing to pursue a Master's Degree to become a Nurse Anesthetist.
Dr. Susan Mee, Assistant Professor of Nursing at CSI, has noticed the changing landscape of the nursing profession and sees that many of the students have followed suit.  "More young men and women are entering our program as a first career" she said of the trends that have emerged in nursing. "Men have traditionally been underrepresented in nursing but that is changing, and CSI is proud to be a part of providing equality in our educational programs." Dr. Mee believes that this is a sign that nursing is a "stable profession."
CSI President Dr. William Fritz, whose mother is an RN, talked about the value of the Nursing Department in his remarks.  "For over 25 years, CSI has trained and graduated more than 5,000 nurses, who have gone on to become the backbone of healthcare on Staten Island."
After the President's remarks, Lucia Edwards, the evening's student speaker, addressed those in attendance. She began her remarks by thanking the members of the faculty, administration, staff, and her fellow students, family, and friends. She thanked the faculty, especially, "who have worked long hours preparing for classes, creating exams, meeting with students, responding to emails, all while doing their own research.  They are the central reason why CSI's Nursing Program is among the best in the region."
In addition to thanking her professors, Edwards was sure to emphasize the support that she and her peers received from family and friends. "Whether it was financial support, child care, proofreading papers, or adjusting your schedules to accommodate ours, we thank you."
She also spoke, personally, as a wife and mother of two small children, of the trials and tribulations of a student with a family and a job.  Edwards, whom like many of her peers, enrolled at CSI to finish her baccalaureate degree, admitted that "the program was rigorous, but I never complained because it was something I wanted to do."
She ended her speech with a quote from President Woodrow Wilson who, she says, "Captured the essence of who we are as soon to be official Registered Professional Nurses. He said, 'you are not merely to make a living. You are here in order to enable the world to live more amply, with greater vision, with a finer spirit of hope and achievement. You are here to enrich the world, and you impoverish yourself if you forget that errand.'
The pinning ceremony is a time-honored nursing school tradition. Often more personally meaningful than the graduation ceremony, it signifies nurses' official initiation into the profession of nursing. The modern ceremony dates back to the 1860s, when Florence Nightingale was awarded the Red Cross of St. George in recognition for her tireless service to the injured during the Crimean War. To share the honor, she, in turn, presented a medal of excellence to her brightest graduates.
Each school's pin is unique and holds its own symbolic meaning. CSI's nursing pin reads, "Scientia In Actione," or "Knowledge in Action."