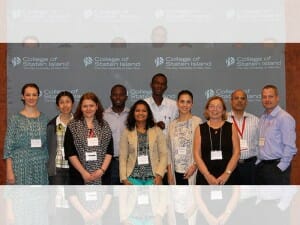 The College of Staten Island (CSI) and Baruch College were recently honored by the visit of nine EducationUSA advisers from Peru, China, Mauritius, Sweden, India, Burkina Faso, Malaysia, Georgia, Congo and a country coordinator from Mexico.
EducationUSA advising centers are located in U.S. embassies and consulates, partner institutions, bi-national cultural centers, U.S. and foreign NGOs, universities, and libraries in 170 countries. Their role is to provide international students with comprehensive information about U.S. higher education through individual and group advisement sessions, fairs, outreach events, webinars and social media.
The summer visit to CSI and Baruch allowed the advisers to explore two flagship campuses of The City University of New York (CUNY) in person.
"Campus visits are critical to overseas EducationUSA advisers because they provide a firsthand look at university systems that are in most cases drastically different from those overseas. The visits help advisers explain and promote U.S. study and highlight campus programs and advantages available – often only in the United States," said Ms. Dorothy Mora, a Program Officer at the U.S. Department of State, Educational Information and Resources Branch, summarizing the importance of such visits.
Guests had an opportunity to interact with the administration, faculty, staff and students, tour the campuses, learn about the international admission process at both undergraduate and graduate level and discover all the programs and services that CUNY colleges have to offer to international students.
The conversations with the administration and the faculty allowed for the exchanges of ideas and possible future collaborations. Dr. Fred Naider, CSI Provost and Senior Vice President for Academic Affairs stated "The energy in the room was impressive and I felt a spirit of intellectual interchange. We look forward to growing this activity."
Overall, the conversations with students, the on-campus stay at CSI's Dolphin Cove, and the tour of New York City gave the international advisers a glimpse of what life of an international student in New York is about.