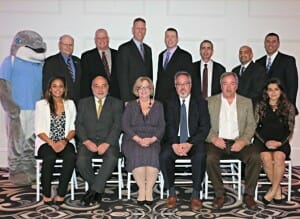 After months of anticipation, the College of Staten Island honored seven individuals this evening as part of the Class of 2014 Hall of Fame Induction Ceremony held at the Grand Oaks Country Club in Staten Island.  Recipients Fiosa Begai, Kevin Crombie, Nicole Estrada, Fran Hirschy, William J. Hodge, Bruce Knittle, and Rob Roesch were the honorees, representing a total of over 30 years of service as coaches and student-athletes.  The rousing event featured a cluster of guest speakers over a full dinner, with words from each of the honorees or their families.  The evening will be featured Friday in the Staten Island Advance.
With many of the guests having not seen one-another in many years, the beginning of the Hall of Fame dinner was a chance for many to catch-up, share anecdotes, and reflect on the meritorious years of service of the inducted.  The evening commenced with words from Associate Athletic Director David Pizzuto, who served as Hall of Fame Committee Chairperson and host, followed by Director of Athletics Charles Gomes and CSI President Dr. William Fritz.  Gomes spoke about the importance of connecting with alumni, congratulating the pioneers of the program who help usher in the Class of 2014.  Dr. Fritz touched on the direction of the College, and the importance of continuing a legacy that have been storied both at Staten Island Community College and CSI.  Shortly thereafter, the hardware was issued to the seven guests of honor.
First to the stage was Fiosa Begai, who was presented by her coach John Guagliardo.  The goal-scoring women's soccer forward joined the squad in 2005, CSI's second year as a competitive program.  By the time her career was finished, she led the Dolphins in all offensive records set, and gathered a total of six championships, a CUNYAC Rookie and Player of the Year honor and helped clinch the school's first-ever ECAC postseason berth.
Next to be inaugurated was CSI baseball skipper Fran Hirschy, inaugurated by his son, Christopher.  Hirschy took over the program in 1990 and turned it into an immediate winner, advancing the NCAA National Championship in 1991 and 1992, the first and only times in CSI history.  He took over a unit that was 63 games under .500 over the previous 12 seasons, and by the time his career was over, Hirschy boasted an NCAA Division III best 111-40 record, with three CUNYAC and two ECAC postseason championships.  Hirschy was quick to cite many of his former players for being the biggest reasons for his success.
Women's basketball and softball star Nicole Estrada was next to the podium, presented by her former coach Jaclyn Badagliacco.  The seven-time CUNYAC All-Star throughout her career was at the top of the game on the hardwood and diamond, finishing as CSI women's basketball second all-time leading scorer, while hitting close to .400 over the final two years of her softball career.  Estrada spoke especially about the work of her former coaches, and the impact they had on her unbelievable career at the College.
After a break in the program, the next award was presented to the late-William J. Hodge, who received his inauguration from his brother Russell.  A dynamo for both the cross-country and track and field programs at Staten Island Community College, Hodge was a two year captain in 1969 and 1970, and was part of the CUNY and SICC's only gold medal relay team at the prestigious Penn Relays.  Hodge went on to a storied and decorated career as a coach, where he was named a Coach of the Year at four different NCAA Division I conferences, believed to be a record.
The longest tenured Hall of Fame recipient of the Class of 2014 was Bruce Knittle, who was honored next by former CSI Sports Information Director and Athletic Director Terry Small.  Knittle pioneered both the men's and women's tennis programs from 1992-2003, winning a total of 10 championships between the two sides.  Knittle's units were a model of consistency, as his teams won championships or placed as runners-up 19 times in his combined 24 seasons at the helm.  He also founded the Bruce Knittle Boys and Girls Tennis Camps at CSI that ran from 1995-03.
Men's hoops star Rob Roesch was next to be honored, presented by friend and former teammate James Long.  Roesch spent just two seasons with the Dolphins as a transfer, but posted the first and second highest point totals in CSI single season history, finishing 13th all-time at the College, while his 850 career rebounds place second.  The decorated star led the team to two straight CUNYAC titles and a pair of NCAA Division III National Championship Tournaments.  He later served on the school's Alumni Association Board of Directors from 2001-03.  He was quick to cite his loving family, teammates and coaches for making the honor possible.
Last to the podium to accept honors was baseball hurler Kevin Crombie, a four-year ace on the diamond, presented by friend and current CSI baseball skipper Michael Mauro.  The submarine-style force boasted a career 28-4 record with a miniscule 2.40 ERA.  He fanned 281 batters in 229 innings, allowing just 163 hits.  Crombie enjoyed CSI's two NCAA Division III National Championship appearances, throwing a two-hit complete game shutout as part of CSI's last NCAA-qualifying team in 1992, his senior season.  Crombie went on to play minor league baseball after being signed by MLB's Detroit Tigers.
The Hall of Fame proved to be a magical evening for many of the guests, and for the honorees, the focus seemed to be less about the induction and more about the College's historical significance.
"When I got the call to be honored, I had no idea what I was going to say.  I still don't," said a joyous Hirschy during his speech.  "But the phone calls and letters I received after it was announced of how I changed lives was what really hit me the most.  It really makes me appreciate how special it was to be a team."
One of Hirschy's prized pupils, Crombie never played high school baseball, and remembers fondly his teammates and coaches being a reason for his success.  "They made a shy kid feel right at home.  Winning is fun, and that's all we did.  I wouldn't feel right about accepting an award like this, unless my teammates would help share it with me," said Crombie in his closing.
Alongside the inductees receiving hardware, the same plaques, complete with telling bios will hang in the CSI Sports & Recreation Center as part of Hall of Fame walk, located on the upper concourse of the basketball arena.
Future Hall of Classes will be announced every other year, with the next class slated for 2016.