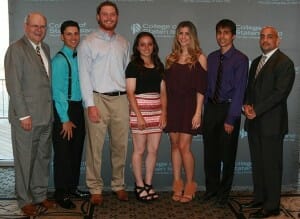 The College of Staten Island athletics program celebrated another great year that was this evening, dishing out over 60 awards at its annual awards banquet held at The Vanderbilt at South Beach in Staten Island, New York.  The annual event recognized the top performers and other distinguished award winners spanning CSI's 15 intercollegiate programs.
View the Photo Gallery>
After greetings from Director of Athletics Charles Gomes and CSI President Dr. William J. Fritz, awards were given for each sport in chronological order beginning with teams last fall, and ending with women's softball, which finalized its season with a CUNYAC title and was one of three teams to advance to NCAA National Tournament competition.
Major awards were presented to Female Athlete of the Year Dakota Dawkins, junior from the women's swimming and diving team.  In 2014-15, Dawkins was part of a unit that broke over 20 school records, and the signature breaststroker was a part of four individual and four relay record-breaking teams, and broke two records at the CUNYAC Championship.  Dawkins earned CUNYAC Performer of the Year honors this winter.  CSI Basketball powerhouse Will Fonseca earned Male Athlete of the Year honors.  Fonseca, the CUNYAC, ECAC Metro NY/NJ, and Metropolitan Basketball Writers' Player of the Year, led  All-Star led CSI basketball to its second-straight ECAC championship, breaking the school record for points in a season with 732, and leading the nation in total points and double-doubles. 
CSI Scholar-Athlete of the Year honors was given to men's tennis star and junior Ed Ruffe.  A CUNYAC first-team All-Star this season, Ruffe is graduating early from CSI, sporting a 3.987 GPA while majoring in Psychology. Vice President for Enrollment Management Mary Beth Reilly also honored the CSI Women's Swimming & Diving team for posting CSI Athletics' highest Team GPA, at 3.29.
Jennifer Coughlan, graduating senior from women's basketball, was awarded the 10th Annual Bill Cali/John Scrivani Sportsmanship Award, named after CSI's former baseball skippers who earned similar honors from the Staten Island Advance in 2005.  CSI men's basketball head coach Tony Petosa, who won the same honor from the Advance in 2011, assisted in the presentation.  Coughlan, a captain with the squad, overcame several injuries to persevere as an ambassador to the program.
The same holds true for women's soccer standout Danielle Smith, who was awarded CSI's Inaugural Sports Medicine Award, distributed by Head Athletic Trainer Joe Abruzzo.  The award is given to an outstanding athlete who displays courage and resiliency through injury and/or rehabilitation.  Smith overcame a season-ending injury in 2013 to rebound and lead her team in goal scoring in 2014.
Honoring those outside the halls of athletics, the program honored long-time staffer and swim instructor Geraldine Ayers with a Distinguished Service Award.  Ayers, long regarded as one of Staten Island's top youth instructors has spearheaded private lessons at the College, which has seen a spike in revenue and community interaction.  Another Distinguished Service Award was given to Kenichi Iwama, Deputy to the President.  Working collaboratively with Charles Gomes, Iwama has been instrumental in advancing and supporting the program through continuing branding efforts and facility upgrades. 
Midway through the ceremony, members of the CSI Student-Athlete Advisory Committee presented their fifth-annual G.L.O.V.E. Award to the CSI Women's Basketball Team for their model of Giving, Leading, Organizing, Volunteering, and Encouraging.
All told, the rousing event was a great success, according to Gomes.
"It's been an amazing year for CSI Athletics and tonight was our night to celebrate that success," said Gomes.  "Our student athletes invest so much effort on the field, in the classroom, and in the community. This is our opportunity to honor them and their achievements. I couldn't be more proud of their accomplishments from this past year."
[youtube]http://www.youtube.com/watch?v=88LiN7LFuAo[/youtube]An end-of-year highlight video, prepared by CSI Facilities Manager Anthony Avena was the highlight of the evening.  he CSI academic year will come to a close in the coming weeks, when Commencement will take place on May 28.