New York State Assemblyman Michael Cusick, together with College of Staten Island President Dr. William J. Fritz, Vice President for Finance and Administration Ira Persky, & Athletic Director Charles Gomes, announced a $1 million grant to the College of Staten Island for state of the art upgrades to the College's track and field facilities. These upgrades will enable the College to host intercollegiate events and field NCAA sanctioned men's and women's track and field teams. Additionally, the improved facilities will provide the perfect place for the Staten Island community to exercise as well.
"The College of Staten Island serves thousands of students and visitors each and every day both in and out of the classroom. These upgrades to the track and field facilities will bring the athletic program into the 21st Century and bring dozens more student athletes to the school" said Cusick.
The upgrades include the replacement and resurfacing of the entire track, only resurfaced once since it was constructed in 1994. Additionally, event facilities including shot put, discus, hammer throw, long jump, triple jump and high jump will be constructed within the grass oval on the inside of the track. There will also be an expansion of the bleacher seating to accommodate an additional 500 spectators.
"The College of Staten Island is deeply appreciative of this investment by Assemblyman Cusick," said President Fritz, "These new facilities will enhance the student experience and Athletics program by allowing the creation of an NCAA Track and Field team, and will ultimately contribute to the health and wellness of all Islanders. Whether Assemblyman Cusick is sponsoring free Narcan training, supporting the Veterans Resource Fair with Staten Island Supports Our Soldiers, or working diligently in Albany to secure $10M in funding to help bring the Interdisciplinary High Performance Computing Center (IHPCC) at CSI into the design phase, he continues his life-long personal and professional commitment to improving the borough. We thank him for his continued efforts in further establishing CSI as a destination campus, and a senior college of CUNY."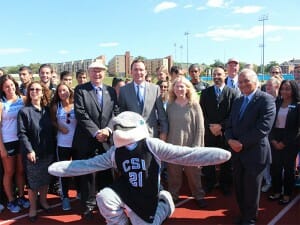 "With the construction of these state of the art facilities it is my hope that CSI begins to host local, regional, and even national track and field competitions" said Cusick. "As a lifelong runner and a proponent of living a healthy and active lifestyle, I am proud to make this grant to the College of Staten Island and look forward to the completion of these well-deserved renovations".
"The $1M grant to the College of Staten Island for state of the art upgrades to our track and field facilities will enable us start an NCAA men's and women's track team expanding the number of our NCAA athletic teams to 16," Fritz continued. "This investment comes at a most opportune time as the College is increasingly being recognized locally, regionally, and nationally, with more accolades coming over the summer. Money magazine ranked CSI third in New York state, eighth among public institutions in the Middle-Atlantic region, and 123rd nationally for institutions that provide the best value for students' tuition dollars. Forbes magazine followed by ranking CSI one of "America's Top Colleges" offering a high return-on-investment education."