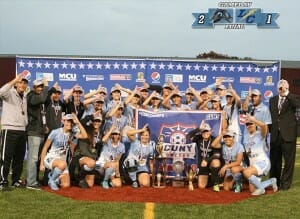 The College of Staten Island women's soccer team kept their dream season intact with another win for the ages, this time scoring a 2-1, overtime, victory over top-seeded Lehman College as part of the 2015 CUNYAC Women's Soccer Postseason Championship at Brooklyn College in Brooklyn, NY.  It was the first Dolphins championship since 2011 and their seventh overall, and it broke up a 0-4-1 championship drought the team has suffered through since 2009.
"This was a hard-fought victory for us," said CSI first-year Head Coach Giuseppe Pennetti.  "Lehman's a great team, and we earned it."
The coach was exactly right.  CSI faced an uphill climb against Lehman and league MVP Chelsea Harris.  The Lightning had ripped through John Jay College in its semifinal tilt, 5-0, and put a stop during the regular season to what was CSI's 28-game unbeaten CUNYAC regular season streak, defeating the Dolphins with a heavy hand, 5-1.
To start the game, LC was firing on all cylinders, earning a pair of chances via corner kick and testing CSI keeper Kristy Colangelo.  After weathering an early wave of attacks, CSI then mounted the offensive.  Kathryn Dowling registered CSI's first shot, and four minutes later CSI struck gold.  A Stephanie Rivera pass from the midfield found Danielle Alexandrini in the box, and the game-winning goal-scorer in the semifinal vs. Brooklyn tapped in the goal past LC keeper Stephanie Gonzalez to give CSI a 1-0 lead just 17:27 into the game.
The goal sent the CSI contingent into hysterics, and the Dolphins continued the momentum through with another set of shots, all the while holding the Lightning attack down.  But LC proved it would not need much of a window of opportunity to be dangerous.  Held without a shot for 23 minutes, LC finally registered one at 33:34, and this time CUNYAC-leading scorer Harris left little to doubt, powering in a goal to tie the score off of a Pamela Sanchez feeder.  Lehman would pepper the CSI goal with three more shots, but CSI's senior keeper was up to the challenge and the score moved to 1-1 at intermission.
In a hard-fought defensive showing in the second half, Lehman amped up the pressure, and built a lot of time in the CSI end.  The Dolphins meanwhile were held shot-less until a Lauren Smith attempt sailed high in the 68th minute.  Lehman also was held without a shot for a 22-minute stretch, but the unit put up a couple of shots in the closing moments, including a big scare when Harris put a shot wide with 16 ticks left in regulation.  With a guarded exhale, the game finalized at 1-1, and headed to overtime.
The five-minute break before the overtime seemed to charge the Dolphins, and to start the extra session the team that had totaled only one shot over the previous 62 minutes seemed to be the quicker and more dynamic team.  At 96:16, senior Samantha Wysokowski had a huge chance in front of goal, but missed wide on a streaking opportunity.  Then, exactly 2:10 later, Wysokowski fired wide again.  With the clock winding down, and seemingly headed for a second overtime, the senior capitalized on a scramble in front of goal,  Off of a feed from Krysta Percaccio, Wysokowski thundered in a shot past Gonzalez with just 23 seconds remaining to give CSI the 2-1 golden goal win.
The goal for Wysokowski, who missed all of the 2014 season due to injury, was her 15th of the season and her sixth game-winner.  It was a sweet one for the senior who also won a CUNYAC title as a freshman in 2011, playing as the game-winning goalkeeper in a 0-0, 4-2 penalty kick win over John Jay that year.
"There are no words," said an ecstatic Wysokowski postgame.  "It's been a battle from day one and I am so proud of this team.  I don't know how I scored the goal.  I just know I wanted it so I just went to get it and I put it through the net."
Lehman let the final shot count, 11-9 (7-6 on goal) and held a modest, 3-1 lead in corner kicks.  Colangelo made six saves for CSI in the win, while Gonzalez finished with four stops for LC.  Wysokowski led all scorers with 4 total shots.  The Dolphins improved to 13-4-1 overall with the win, while the Lightning fell to 14-4.  CSI improved to 5-1 all-time against Lehman, and it was the second-straight year the Dolphins defeated the Lightning in CUNYAC postseason play.
CSI will now await word on who they will match up with in the NCAA Division III National Tournament on Monday, when selections are made.  It will mark CSI's first-ever trip to the national tournament.