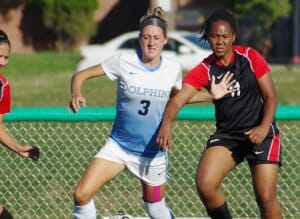 It was a history making year for the College of Staten Island women's soccer team, and after making its first-ever NCAA Division III National Championship Tournament, the team got a series of first and second-team selections from the ECAC Division III Metro NY/NJ Athletic Conference.  Senior Danielle Smith was named to the first team, while a total of five other Dolphins earned on to the second-team.
Smith played in 12 games for the Dolphins in 2015, prior to a season-ending injury cut things short in October.  Smith made all 12 starts on the back line, and punched in six goals and five assists when contributing to the attack.  She was third on the squad with a pair of game-winning goals, and finished fourth on the team in total shots with 33.
Senior strikers Samantha Wysokowski and Danielle Alexandrini both earned on to the second-team as all-stars.  Their statistics mirror, as both punched in 15 goals to tie for the team lead.  Alexandrini added six assists, tied for a team high, while Wysokowski's six game-winners led the squad along with her 75 total shots.
Junior midfielder Jennifer Cosenza was also awarded a second team honor.  Cosenza popped in four goals and a team-high six helpers on 30 shots, starting all 19 games.  Senior defender Krysta Percaccio was an 18-game starter and added two goals and an assist on the season, anchoring the back line as a center back.
To round things out, senior keeper Kristy Colangelo was also a second-team honoree on the squad.  Colangelo set a new CSI record with 9 shutouts this past season, earning a 13-5-1 overall mark while manning every minute between the pipes.  She boasted a 1.30 goals against average and a tremendous .820 save percentage.
CSI finished the 2015 campaign with a 13-5-1 overall record, winning their seventh CUNYAC Championship at season's end via a thrilling 2-1 overtime victory over top-seeded Lehman College.