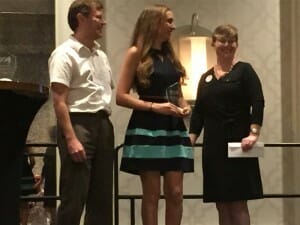 This year, three College of Staten Island (CSI) students attended the 2016 International Conference on Infant Studies in New Orleans, winning various awards and showcasing their research contributions.
Juliana Zaloom, Andrew Russo, and Carmen Guallpa are Psychology majors doing research in the Child Development Lab at CSI with Dr. Lana Karasik, Assistant Professor of Psychology and Dr. Sarah Berger, Associate Professor of Psychology.
Juliana Zaloom won the prestigious, highly competitive award for "Best Undergraduate Submission" for her work with Dr. Karasik on a cross-cultural project in Tajikistan. She was first-author on a poster presentation and the only one selected from nearly 200 undergraduate abstract submissions. Zaloom received a plaque and a monetary award from the Infancy Congress. Andrew Russo, who has been conducting research in Dr. Karasik's lab and writing his honors thesis, also first-authored a poster. He received an Undergraduate Research Fellowship to support his work in the lab.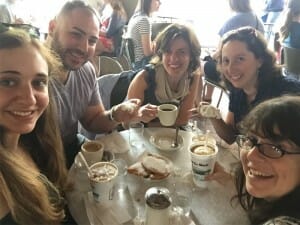 Carmen Guallpa, who has been doing research with Dr. Berger, for the last year, and writing her honors thesis, also presented a poster. Guallpa also received the Undergraduate Research Fellowship.
All three received travel awards (only ten travel awards are distributed) from the International Conference on Infant Studies (ICIS) as well as travel grants from CSI, and all were honored at the awards ceremony.
"It was really exciting to see CSI and CUNY represented at this international conference," said Dr. Karasik, who has been a full-time staff member of the CSI Psychology Department since 2012.
"When I recruit students to work with me, I train them to be research collaborators; I want them to feel they are part of the research enterprise. Students are trained to be independent researchers and because of this, they become really invested in the work," said Dr. Karasik, adding that another benefit of attending these conferences is that students can network with other students and experts in the field, and research graduate school opportunities.
"It is wonderful to see our students featured at an international academic venue. Dr. Karasik's research is highly valued and well respected, both by her colleagues and our field. Our students benefit greatly from the opportunity to work with such a reputable scholar," said Rev. Dr. Kathleen Cumiskey, Chair of the CSI Psychology Department.