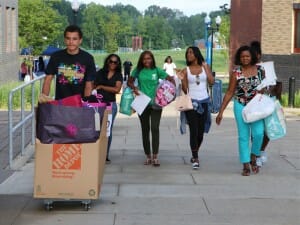 STATEN ISLAND ADVANCE – Back to school time is here — at least for college kids moving into the dorms at the College of Staten Island (CSI) in Willowbrook.
CSI kicked things off Sunday with its fourth annual Dolphin Cove Residence Halls move-in day.
View the CSI Today Photo Gallery>
View the SI Live Photo Gallery>
On hand, dressed in full chef attire, were Dr. William J. Fritz, CSI president, and his wife, Dr. Bonnie Fritz. They were both meeting and greeting students near Dolphin Cove underneath a tent while preparing homemade waffles from Fritz's family recipe. Each waffle was cooked on Fritz's antique collection of waffle irons.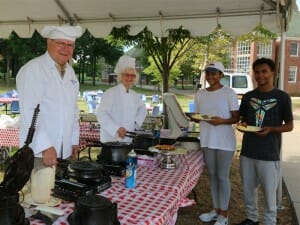 One of Fritz's irons was his grandmothers, and it dates back to the 1880s and 1890s, he said. Some of them are designed to cook on a wooden stove and others on gas; he prefers the former.
He said he expected to serve anywhere from 200 to 300 people on Sunday.
"Some (college) presidents carry in luggage or do other special things," he said. "I said, 'I'm going to cook waffles.'"
CSI's residence halls are at full capacity with a total of 450 students living in the dorms. A total of 240 students were set to check in Sunday, said Jennifer Borrero, vice president for student and enrollment services.
"The parents are excited that their kids are growing up and the students feel that they really have this opportunity to live away from home in a work and learning environment that's conducive to being successful in college," she added.
[youtube]http://www.youtube.com/watch?v=PLI2uh8vsfI[/youtube]Dylan Couverthier, a freshman from Bushwick, Brooklyn, is hoping to do just that. Dressed in a Cleveland Cavaliers Kyrie Irving's jersey, it came at no surprise to find out that he also happens to be a walk-on shooting guard for the men's basketball team.
Although an undecided major, at the moment, he said he's leaning toward studying physical therapy in case being a professional athlete doesn't pan out.
Alongside him was his overjoyed family in celebration of what he called "a new chapter in my life" at a place where the school colors, his new teammates and fellow classmates all make him simply want to smile.
"The campus, and everything that comes with it — It's just beautiful," he said. "Everything has fallen into place."
This story by Jon Reyes was published by www.silive.com on August 21, 2016 and is reprinted here with permission.