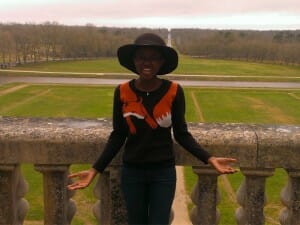 As a sustainable environmental continues to be a global concern for many, one College of Staten Island (CSI) graduate is taking action.
Saada Amadu '16 has received a full scholarship to attend graduate school at Central European University in Budapest, Hungary to study Environmental Sciences and Policy.
"I hope to work at the intersection of environmental science and policy because I believe for us to be able to find methods to sustain ourselves without endangering the environment and livelihood and well-being of future generations to come, international policy must find a way to bridge the gap with the scientific community," said Amadu, who was an International Studies major with minors in Geography and French.
The Port Richmond High School graduate credits much of her motivation and inspiration for graduate studies to her experiences with research, under the advisement of Associate Professor Roshen Hendrickson, and study abroad opportunities at CSI.
"Saada is a very bright and ambitious woman who has gained access to stimulating opportunities, such as study abroad and graduate school in Europe, through sheer hard work. She has been a great pleasure to work with because she's intellectually curious and motivated to contribute to her global community," commented Professor Hendrickson.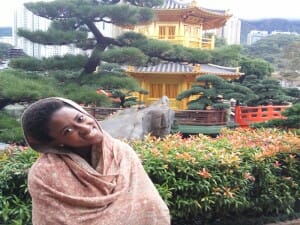 For her honors thesis, Amadu wrote about, "policies that led to Senegal importing over 70% of its food and also organizations and individuals working to revive the sector. The interesting part of the research was discovering that structural adjustment programs imposed by the IMF and World Bank were part of the reason for the decline in the Senegal agricultural sector."
Currently crafting her Master's thesis, Amadu is studying "the nexus of food, energy, and water security issues. The need for new energy sources and climate change have led some countries to seek alternative sources of energy through biofuels, which are basically energy derived from biomass. First generation biofuels can be derived from crops such as soy or corn while second generation biofuels are derived from by-products such as wood or crops such as jatropha [a flowering plant]. My research is focusing on the fact that biofuels affect both energy and water security of certain communities, in particular rural Ghanaian communities."
For a truly rich college experience, Amadu strongly urges college students to take advantage of study abroad opportunities as well as the financial support available for those courses.
"Programs can be expensive but with the help of scholarships and grants, the costs might not be too much. I went on two semester-long programs and was still able to graduate in three and a half years. The Center for International Service is particularly helpful when it comes to applying for programs and scholarships," said Amadu, who traveled to Paris, France in Spring 2015 and Hong Kong in Spring 2016.
The 21-year-old native of Tamale, Ghana was also the recipient of the Gilman Scholarship, Benjamin Franklin Travel Grant, CUNY SIROCS, and CSI Study Abroad Scholarship.
"Saada is an outstanding, dedicated student with a plan to utilize sustainability initiatives to make a difference for underserved communities around the world," praised Michele Callahan, Fellowship & Scholarship Advisor.
To succeed in college, Amadu urges students to, "Take advantage of opportunities if and when you are presented with them. Also, try to have a faculty mentor because they can be of help when you least expect."