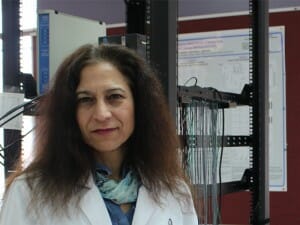 Adding to the College of Staten Island's (CSI) long list of impressive faculty grants, it has been announced that Maria Knikou, PhD, was awarded a $1 million grant for her research in spinal cord injuries. Her project is funded by the New York State Department of Health, Spinal Cord Injury Research Board, under the Project to Accelerate Research Translation (PART) award. Dr. Knikou's goals are to develop effective rehabilitation strategies for people with spinal cord injuries based on scientific evidence.
"I am extremely thrilled and feeling amazing about this outcome," said Dr. Knikou, Professor of Human Neurophysiology at CSI and The Graduate Center of The City University of New York. Dr. Knikou currently has 11 completed grants, as well as two active and two pending.
Dr. Knikou mentors high school, undergraduate, and graduate students, as well as postdoctoral research fellows and junior faculty. Further, she serves on several editorial boards and has published her research work in high-ranking peer-reviewed scientific journals.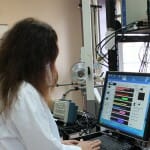 In Dr. Knikou's latest research project, non-invasive stimulation of the spine and brain will be delivered at rest and during assisted stepping with the aim to improve the walking ability of persons with spinal cord injuries. Twelve individuals without spinal cord injuries will also participate to establish a control group. The trials are considered novel, as this is the first time that these two types of stimulations have been paired and will be delivered during assisted stepping. The hypothesis is, in short, that when the stimulation of these two areas is paired, the connections between the brain and the spinal cord will be strengthened. Participants will attend 15 sessions over the course of 15 days and reorganization of brain and spinal cord will be assessed via non-invasive methods.
Grant monies will be used for research staff and assistants, supplies and equipment, stipends for participants, and other project necessities. Dr. Knikou is submitting further grants to map the outcomes of non-invasive transspinal stimulation in arm and leg function of people with tetraplegia or paraplegia.