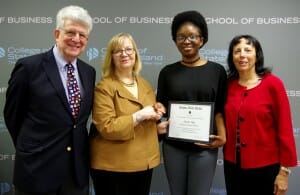 The Lucille and Jay Chazanoff School of Business at the College of Staten Island/CUNY is extremely pleased to announce that one of its students, Nicole Agu, was named the recipient of the 2019 Donald H. Driemeier Scholarship from Sigma Beta Delta (SBD), the International Honor Society for Business, Management, and Administration. The scholarship is named for Donald H. Driemeier, the founder of Sigma Beta Delta.
Chapter 372 of SBD at the College of Staten Island was founded in 2012, and has grown to include 277 undergraduate students, 30 graduate students, 16 honorary members, and 25 faculty members. Only the top 10% of junior, senior, and graduate Business students at the College are invited to apply for membership.
Nicole is a Verrazano Honors student, who is in her junior year of a double major in Accounting and International Business, with minors in Finance, Management, and Marketing. She completed her Associate's degree in Accounting at CSI in January 2019, graduating magna cum laude. She was inducted into SBD in May 2019, and intends to go on to become a Certified Public Accountant.
In addition to her membership in SBD, Nicole has received numerous commendations, awards, and other scholarships for her leadership and academic accomplishments. She serves as the President of the College's International Business Society, and is currently working as an accounting intern in the Center for Global Engagement at the College of Staten Island. According to Professor Alan Zimmerman, Coordinator of the program in International Business and the faculty liaison for the International Business Society, Nicole is "an outstanding planner and leader of her fellow students," and is "one of the most effective presidents since the founding of the Society 18 years ago."
Ms. Agu has also applied her classroom learning in experiential settings through internships with the CUNY Service Corps and the Volunteer Income Tax Assistance (VITA) programs. On campus, she works as a tutor, an orientation leader, and a peer advisor. These are just a few of the notable accomplishments that reflect Nicole's outstanding dedication to her education, and to the community.
Dr. Susan Holak, Founding Dean of the Lucille and Jay Chazanoff School of Business, states that "the School of Business is extremely proud of Nicole. She is an exemplary student, an effective leader, and is generous with her time and abilities in the community. The award committee at Sigma Beta Delta has made a wonderful choice for this year's recipient."
Nicole was nominated for the scholarship by Professor Patricia Galletta, Deputy Chair of the Department of Accounting and Finance, who submitted the student's name for consideration because of the hard work, perseverance, and commitment that she had demonstrated both in and out of the classroom.  From her own perspective, Ms. Agu says that Professor Galletta "is an outstanding mentor to her students" and that she "ensures that they succeed in class and their career lives."