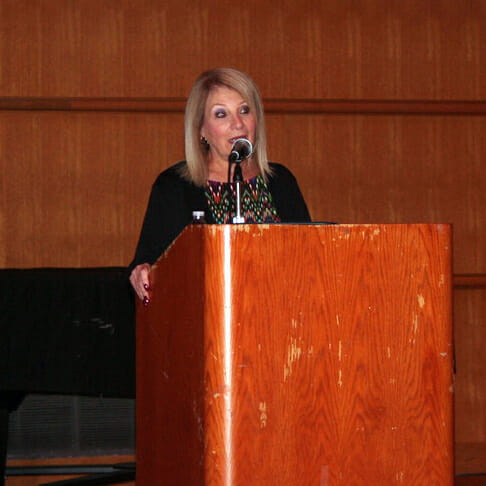 Former colleagues, members of the Staten Island Women's Bar Association, CSI faculty and students, and friends gathered in the Center for the Arts Recital Hall on October 24 to honor Yolanda Rudich, CSI alumna and former Director of the Richmond County District Attorney's Special Victims Bureau, as she received the CSI Legal Studies Institute's Inaugural Lifetime Achievement Award.
Among those who provided laudatory remarks at the event were Richmond County DA Michael E. McMahon; Richmond County Assistant DA, CSI Adjunct Lecturer, and CSI alumnus Adam Silberlight, whom Rudich mentored as a student; and Chairperson and Associate Professor of Political Science and Global Affairs, Pre-Law Advisor, and Director of the Legal Studies Institute Michael Paris.
After an introduction and presentation of the Lifetime Achievement Award, Ms. Rudich came to the lectern to present her remarks.
During her presentation, she discussed her humble, working-class beginnings. She moved with her family from Brooklyn to Staten Island as a teenager when her family finally saved up enough to buy a house. Noting that she grew up in a different time, she explained that whatever money her parents had saved for their kids to go to college would go to her brother, because he would have a family to support. Rudich saw this as a challenge. "It made me realize that women had more of a struggle in our society in a time when girls aspired to careers as nurses and teachers. When people asked me what I wanted to be, I told them, 'President of the United States.'"
She continued, stating that her formative years were marked by the Civil Rights Movement, a time of upheaval in the U.S. "It just seemed to me that being a lawyer was the right path for me to fight for justice for our society."
After explaining that her goal to receive a college education was sidetracked, temporarily, when she became a mother of two at a young age, Rudich discussed the role that public education played in helping her to realize that dream. Calling herself "the proud recipient of public education," she mentioned that CSI allowed her to reignite her education, part-time, when her kids were in pre-school and added, "From Erasmus Hall, the inner-city high school from which I graduated, to the College of Staten Island to Rutgers University School of Law in Newark, New Jersey, at each stage of my public education, my intellect and my quest for knowledge was nurtured and challenged by the wonderful teachers, professors, and mentors I had. I got a first-rate education at each of those institutions."
Rudich then underscored her philosophy as Director of the Special Victims Bureau. "I wanted to make sure that every person who came through the door was treated with dignity, compassion, and professionalism. I have never forgotten the struggles I faced or the troubles I'd seen and I knew that there were many others who faced similar situations. And although I retired from that job in the District Attorney's Office, I never retired from the issues I've cared about all my life: the opportunities that we always need to have for public education so people can live that American dream. We need and we have to commit ourselves to celebrating the diversity in our communities. We are rich by our differences; we should not be divided by them."
Speaking to the students in the audience, Rudich also emphasized the importance of networking. She mentioned the impact of her participation in the Staten Island Women's Bar Association as one example, and said that presently, "I'm glad that through my connections, I was able to facilitate what's now going to be a partnership of mentoring College of Staten Island students and members of the Staten Island Women's Bar Association."
The event concluded with a reception where attendees were able to ask Rudich questions about her distinguished and impactful career.