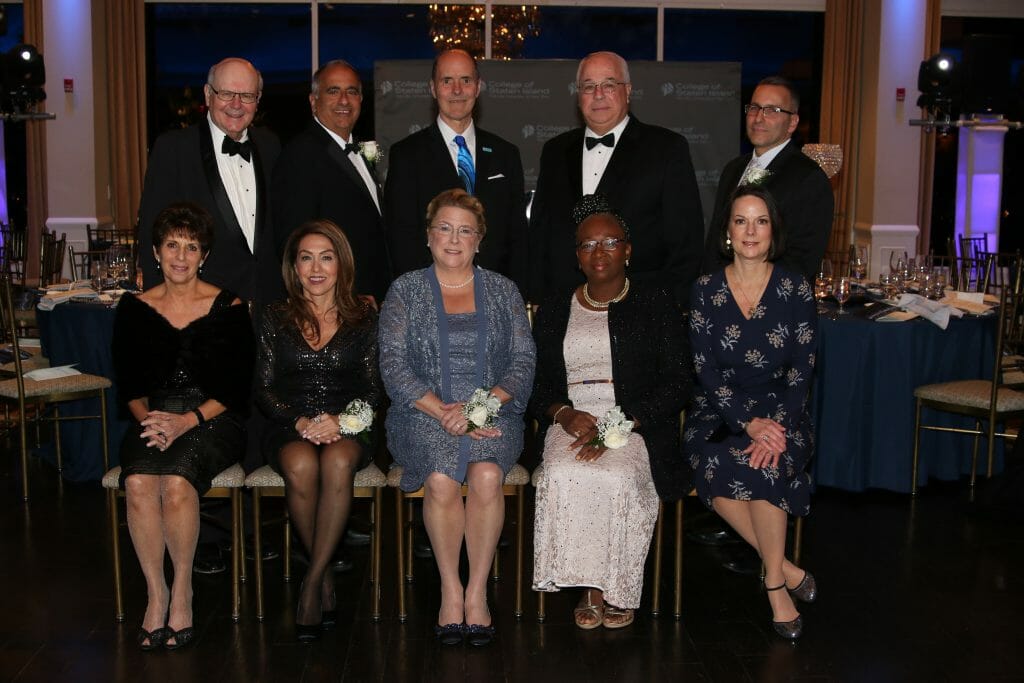 Supporters of the College of Staten Island gathered at the Richmond County Country Club, last Saturday, for the College of Staten Island Foundation's Tenth Annual Celestial Ball "Sowing the Seeds for Student Success." View photo gallery.
The event provided attendees with an opportunity to socialize and enjoy a wonderful meal and dancing, participate in an exciting silent auction; purchase a chance to win a trip to Disney World, courtesy of Casale Jewelers; and take part in the annual $1,000 Pot of Gold drawing.
The Celestial Ball also raises much-needed funds for the College's greatest needs, and honors individuals and organizations that continue to make a positive impact on CSI and our borough.
After introductory remarks by Executive Director of Institutional Advancement and External Affairs Cheryl Adolph and CSI Foundation Board President Patrick McDermott, CSI President William J. Fritz discussed some of the high points for the College over the past year, including the $7.5M gift from Lucille '65 and Jay '65 Chazanoff to name the School of Business; CSI's participation in CUNY 2X Tech with the goal of doubling the number of graduates with tech degrees; the recent announcement of the intention for CSI to develop the CSI Genomic Research Facility; and CSI Athletics' acceptance into NCAA Division II.
Dr. Fritz also introduced a promotional video for the College, which was produced by Cinema Studies students in the Department of Media Culture. Entitled "CSI: We Bring the World to You" the team of Cadem Francis, Rheana Galloway, Larentiy Sorokin, and Annie Tenantitla worked over the Spring and Summer 2019 semesters with Professor David Gerstner, Mitchell Lovell, and Lava Sorokin.
Student Speaker Fatu Amara followed Dr. Fritz. Amara is a senior in the Verrazano School honors program; a Jeannette K. Watson Fellow; a Collegiate, Science, and Technology Entry Program student; and President of the Student Government. In 2015, she immigrated to Staten Island from Sierra Leone, and she is a graduate of Curtis High School. During her time as a Watson Fellow, she had the opportunity to intern at the NYC Mayor's Office for Immigrant Affairs by facilitating language learning programs, and in Rwanda, where she worked on development projects by conducting outreach to rural communities.
In her remarks, Amara comments on her time as a Watson Fellow. "As I embarked on my final year as an undergraduate student, these diverse experiences have shaped my global perspective, challenged me professionally to put forth my best work, and supported my personal growth from that shy girl that entered the campus to a strong and thoughtful leader."
The next part of the program spotlighted this year's recipients of the President's Medal. Provost and Senior Vice President for Academic Affairs J. Michael Parrish joined Dr. Fritz on stage to honor 1199SEIU Training and Employment Funds (represented by Denise Cherenfant, Director, TEF Nursing Programs); June M. Como, EdD, RN and Anthony Como; and National Grid (represented by Frank Lombardo, NY Business Planning and Performance, and Carol Decina, NY Community and Customer Management).
Following Dr. Fritz's concluding comments and dinner, guests at the Ball danced to the music of Crossing Midnight.
This year's Ball Committee Chair was Marilyn Caselli, Senior Vice President for Customer Operations, Consolidated Edison, Inc., and a member of the CSI Foundation Board of Directors.