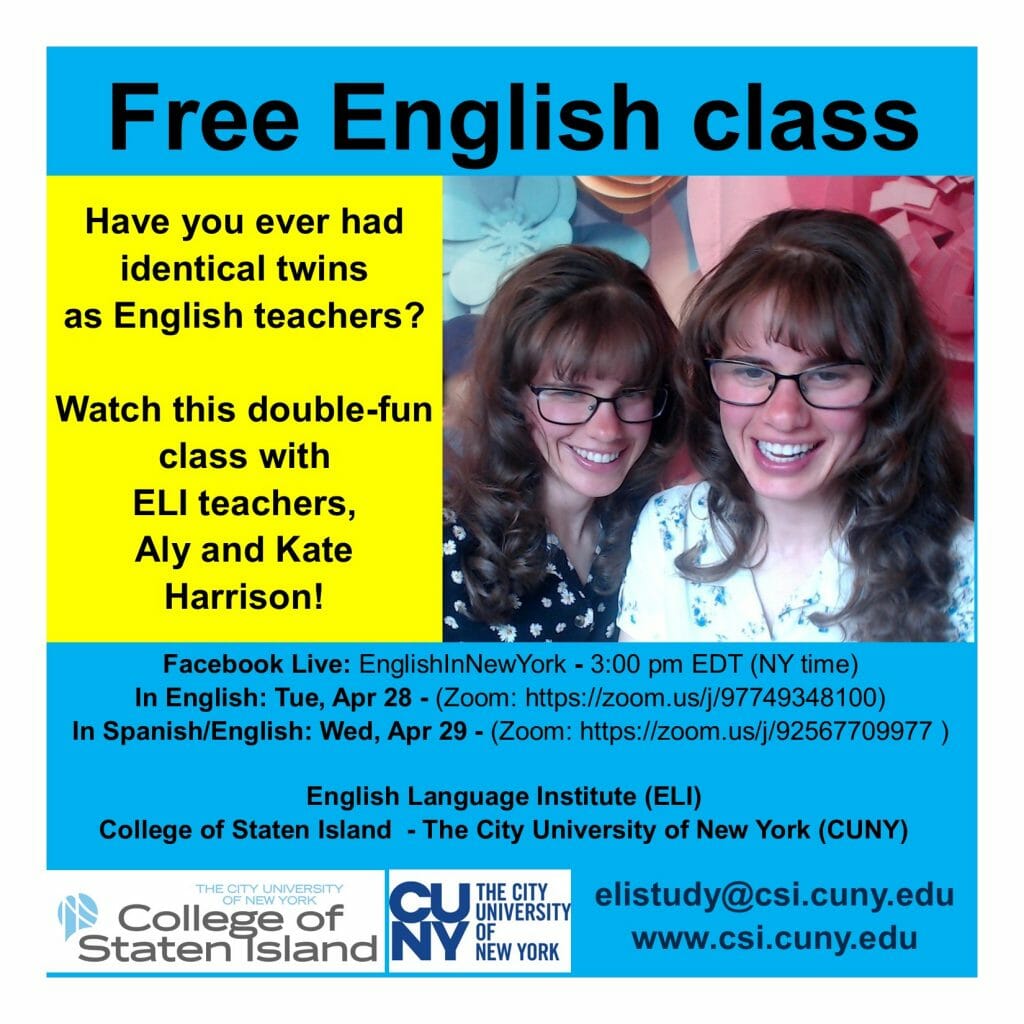 The English Language Institute (ELI) at the College of Staten Island is offering free English classes via Facebook Live videos and Zoom meetings. These free short sessions are offered to any student around the world who may want to learn or practice English. There are even sessions explained in Spanish and English at the same time to help Spanish speakers understand the class.
Many English language centers around the world are closed and not many students will have the chance to return to face-to-face English classes or have the means to attend online instruction. According to the British Council, two billion English learners were expected for 2020, more than a quarter of the world's population. Many students who wanted to come to the United States to learn English have canceled their plans amid the COVID-19 health crisis.
ELI switched its 2020 Spring semester to online instruction. The students who were already learning English on campus are now on Zoom classes with ELI teachers. The great benefit is that they continue to have synchronous instruction and the same courses. Every day, ELI teachers are live with students covering topics such as reading, writing, conversation, and a TOEFL preparation course. Students are from Brazil, Colombia, Chile, China, Germany, Guatemala, Israel, Ivory Coast, Japan, Pakistan, Peru, Russia, South Korea, and Ukraine.
ELI also wanted to help students who were about to arrive in New York this summer and those who had their English classes canceled in their home countries. ELI organized short classes on its Facebook page and with Zoom meetings, and the first class immediately had nearly 1,000 views. ELI teachers will cover different topics every week and for different English levels (beginner, intermediate, and advanced).
ELI Director, Gonzalo Villena, was surprised with the first class audience. "We had students watching from Bolivia, Colombia, Chile, Ecuador, Poland, Peru, Saudi Arabia, Vietnam, and even different cities in the U.S.", according to the ELI Director. "Our goal is to help everyone who wants to practice some English, help those who had their English classes canceled in their countries, or whoever wants to have a good time during quarantine at home," he added.
Since the first class was really successful with Spanish speakers, ELI extended an additional class explained in Spanish and English simultaneously. "The classes are explained 100 per cent in English on Tuesdays and half Spanish, half English on Wednesdays," Villena mentioned. The goal is to reach as many students as possible and provide help using online instruction.
Classes are broadcast live on the ELI Facebook page and Zoom every week at 3:00pm, New York time, but students in different time zones can watch the class any time since they are recorded and they have free access on the Facebook page. ELI is also uploading the class on its YouTube channel so anyone can enjoy the topic they want to see. The first class is already available in this YouTube link. If you want to subscribe to the YouTube channel and receive notifications of new classes, you can always go to its channel.      
ELI invites everyone to watch the next class. If you want to join from Facebook or Zoom, you just need to see the events posted on ELI Facebook, ELI Instagram, ELI Twitter, ELI LinkedIn, or on the CSI or CUNY Websites. For those who want to join with Zoom from a computer or laptop, they just need to click on the Zoom link and watch the class directly; those who join with Zoom from their cell phones need to download the app and add the meeting code number (number posted on Facebook and other social media posts).
By the English Language Institute