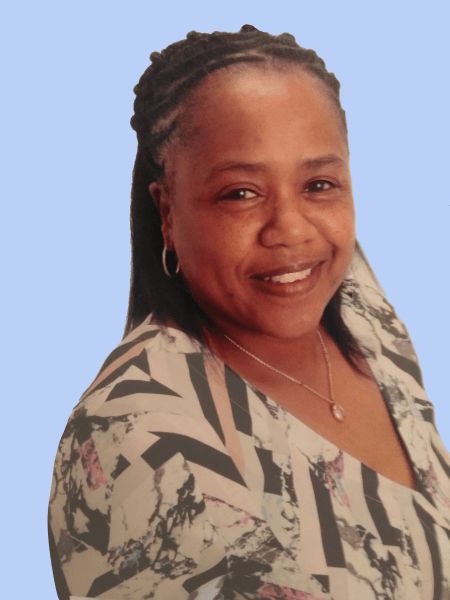 The Continuing Education Association of New York State (CEANY) has honored the College of Staten Island's Office of Workforce Development and Innovation with three awards recognizing CSI's 40-year track record of excellence in workforce development programs: Outstanding Continuing Educator, Outstanding Student, and Outstanding Business and Industry Collaboration. The awards will be presented to the College at CEANY's virtual ceremony on November 5.
Outstanding Continuing Educator
The award went to Maribel Espinosa-Hernandez, a former CSI student who has become an exemplar of CSI's excellence in teaching and mentorship. Maribel is a community health educator and victim advocate with a long track record of serving non-profit community-based organizations in Staten Island. Maribel was born in Valle de Chaco, a small town outside of Mexico City. Hoping to escape the conditions of rural poverty, her father brought her to the U.S. when she was four years old, soon to be joined by her family of eight. Both parents struggled to keep the family afloat through temporary cleaning and labor jobs. An "A" student and star athlete, Maribel showed signs of fulfilling her parents' dreams of prosperity and success, until becoming pregnant and leaving high school at age 17. Determined to get her education back on track, Maribel completed her GED and enrolled at the College of Staten Island, where she began a BA in Spanish Literature (completed in 2019). Meanwhile, she was fulfilling her desire to serve other immigrants in the community while advancing her career in public service. Since 2014, Maribel has worked at various social service organizations on Staten Island, advancing from roles as office administrator and data analyst to interpreter, coordinator, and bilingual case manager at Project Hospitality. Currently Maribel serves as a Victim Advocate for the Staten Island District Attorney's Office.
In 2016, Maribel enrolled in CSI's Certified Community Health Worker (CHW) program. Even while juggling her roles as full-time employee and mother of three teenagers, Maribel showed such promise as an adult learner and leader in the classroom that she was invited to teach the CHW class in 2018. Her dedication to teaching excellence, purposeful career training, and student-driven learning earned her statewide recognition as CEANY's Outstanding Continuing Education Student of 2020.
Community Health Workers (CHWs) are front-line public health workers who help people access health services and information. They work in government, community-based organizations (CBOs), and the criminal justice system.
Outstanding Adult Continuing Education Student Award
As part of its mission of Borough stewardship, CSI makes postsecondary education affordable and accessible to non-traditional students so that they can launch rewarding careers and gain the credentials, skills, and knowledge to excel in their roles. CSI Certified Nurse Aide (CNA) Apprentice Dawn Johnson is proud and grateful to be honored with the Continuing Education Association of New York State's Charles A. Burns Award for Outstanding Student.
Growing up on Staten Island, Dawn and her single mother faced their share of economic hardship. When Dawn left high school at age 16 and became a single mom herself at 18, her future seemed dismal. It turned worse after years of escalating tension in her household, when Dawn found herself homeless. She tearfully recalls living with two young children in a shelter as the hardest challenge of her life.
Throughout the turmoil of adolescence and young adulthood, healthcare work provided Dawn with a sense of life purpose. Working at the Cerebral Palsy Association gave Dawn experience working with individuals with severe disabilities and life-threatening conditions such as epilepsy. There, she found her calling, "caring for others who could not care for themselves." Working three jobs gave Dawn a pathway to self-sufficiency. Yet, Dawn knew she had unfinished business. In 2013, she achieved a long-time goal of obtaining her high school equivalency, becoming a role model for her children and grandchildren alike.
Fast forward to March 2020. When the pandemic struck, nursing homes in one of the country's hardest-hit cities transformed into Coronavirus hotspots within a hotspot. While all training components of the program were paused, apprentices quickly transitioned to full-time workers, protecting Staten Island's most vulnerable population.
Yet Dawn couldn't imagine not caring for her residents during this tumultuous time. "This is what you are trained to do. You take an oath. When I put my life on the line, I'm not scared. And I'm not looking for recognition. It's what I'm called to do every day."
Today, as New York City braces itself for the next potential wave of this pandemic, apprentices are completing their training requirements so they may become credentialed nurse aides. Longer-term, Dawn has set her sights on becoming a Licensed Practical Nurse (LPN) so that she can "do much more for patients." Obtaining a Nursing degree is a tall order, but Dawn is prepared for the challenge.
James C. Hall Outstanding Business and Industry Collaboration
The award from Outstanding Organization Collaboration award recognizes the value of CSI's partnership with the Staten Island Performing Provider System (PPS). This Partnership has expanded the development of workforce opportunities on Staten Island and provided a pipeline of well-prepared employees to fill vital healthcare positions, which are in demand.
In January 2020, CSI, three Staten Island-based nursing homes, 1199SEIU United Healthcare Workers East, and Staten Island Performing Provider System partnered to once again launch a federally registered Certified Nurse Aide (CNA) apprenticeship program, the only one of its kind in New York State. Sixteen enthusiastic and eager individuals accepted seats in this highly coveted program, in which they would complete CNA training, a three-credit college sociology course, and a thousand apprenticeship hours over a four-month stint, all while receiving full-time pay.
The goals of the program are to provide holistic learning experiences to adults who aspire to enter the healthcare workforce, while filling much-needed nursing aide roles in Staten Island long-term care facilities. Representing more than two-thirds of nursing homes staff, CNAs are among the most essential and lowest-paid workers. A nursing assistant's main responsibility is to work with patients to complete their tasks of daily living (ADLs) such as dressing and bathing. These patients also rely on the CNA's expert assistance in helping them to complete exercise and physical therapy regimens–and perhaps most importantly, help regain some of their independence and the dignity they may have lost when being transferred to a care home.
The CSI Apprenticeship is designed not only to prepare participants for a job, but to help them become upwardly mobile healthcare professionals. In their apprenticeship, they encounter a variety of structured settings that require medical knowledge as well as essential interpersonal skills. Apprentices can aspire to careers as LPNs and nurses, putting them on track for family-sustaining jobs and supporting a growing healthcare sector at the height of a pandemic.
By Marion Jacobson, Lisa Spagnola, and Terry Mares