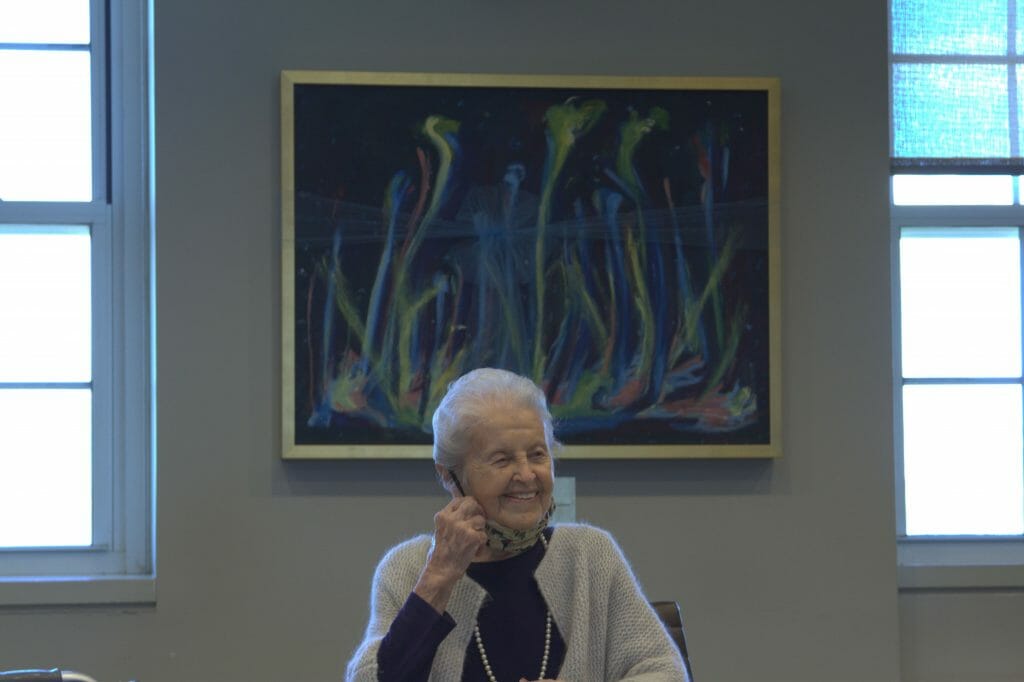 Margaret Ricciardi, who at 107 is the College's oldest living alumna, donated "Welcome," an oil on canvas painting completed in 2016, to CSI in an unveiling ceremony, last Wednesday on the Willowbrook campus.
The small gathering included CSI President William J. Fritz and Senior Vice President for Academic Affairs/Provost Michael Parrish; one of Ricciardi's mentors, Associate Professor of Art Marianne Weil; as well as members of Ricciardi's family and CSI staff.
In her remarks, Ms. Ricciardi expressed her desire to share the work with students, faculty, and visitors so they will feel welcomed by all the good things CSI has to offer.
In 1986, Ms. Ricciardi earned her Bachelor's in Art from CSI at age 72. Beyond the donation of her beautiful painting, she has given back to CSI in a number of ways. Throughout her time at the College, younger students have often looked up to her for advice and guidance, and Ms. Ricciardi continues to help them through the Margaret and Frank Ricciardi Scholarship, which allows financially disadvantaged students who are taking Italian language classes to study in Italy. Additionally, she provides funding for the annual Margaret Ricciardi Commencement Award in Studio Art for a graduating Studio Art major.
In recognition of her many years of dedication to the College, Ms. Ricciardi received an Honorary Doctoral degree from the College in 2017.
In celebration of Ms. Ricciardi's 100th birthday in 2014, a retrospective exhibition of her paintings and sculptures was held at the Gregg Gallery at the National Arts Club in Manhattan. Assistant Professor Weil served as curator.
By Terry Mares and Jennifer Lynch