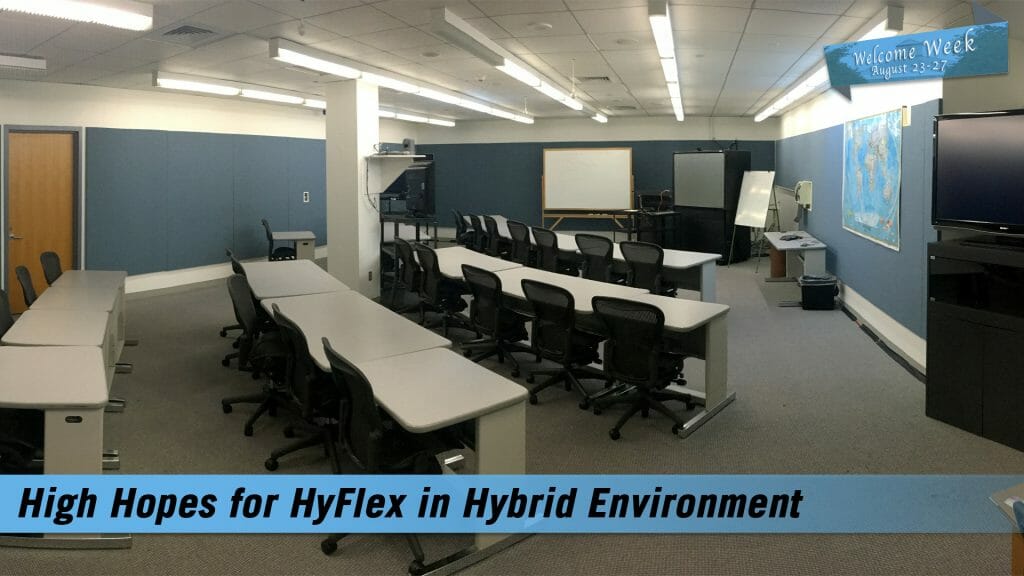 By now, you don't have to go too far before the word "hybrid" comes up to describe a relatively new way of learning, here at the College of Staten Island, and across the globe. While the College made the switch to a fully remote learning environment in the spring of 2020, the Office of Information Technology never stopped their work on campus, helping The City University of New York build the pilot HyFlex Classroom, stationed in the Library, and assisting in the introduction of a new blended modality of learning for both in-person and remote students.
So what exactly is HyFlex? The answer is rather straightforward. These specialized classrooms are designed to accommodate the simultaneous teaching of in-person students and online learners. Professors have the ability to teach their class to in-person students as they normally would, while technological enhancements allow for students who are accessing the class remotely, to follow and interact seamlessly. Zoom software coupled with Web cams, screen sharing, wipe board screens, and enhanced microphones for teacher and student, make it possible, but not without a lot of work on the infrastructure to the room itself, and the staff at CSI was there to answer CUNY's call on making it a reality.
"CUNY's HyFlex room requirements consisted of several technology components," said Patricia Kahn, Assistant Vice President and Chief Information Officer for Information Technology Services. "Room 1L-220A had the required technology and we simply tweaked the components. In addition, we added a document camera and integrated everything with Zoom. All in all, the process went fairly smoothly."
Making the tech arrangements was only the first step. After trials were conducted, staff selected to teach their courses this fall in the new space were also fully trained in a series of workshops, including two live meetings with HyFlex teaching expert Brian Beatty from Cal State – San Francisco. The workshops helped ensure that students who have access to the new learning modality could engage equally, something that was important to Professor Simone Wegge, who is instructing ECO 323/MGT 324 – Intro to Econometrics, in the space this semester.
"The classroom has the ability for in-person students to see and interact with the remote students and for the instructors to physically see and interact with both sets of students as well," she said. "The beauty is that you can offer a lot of options to students to help them stay engaged. Especially with the anxiety of returning to campus for some students amidst the pandemic, HyFlex classrooms provide a great alternative for those students and it's why I was excited to be a part of the pilot program."
Prof. Wegge was interested in what the class had to offer her as well, noting that it has the unique ability to change the way educators approach teaching forever, not just in a pandemic. "We've noticed especially upperclassmen and graduate students who want more remote and asynchronous classes as they are juggling other things, or want to cut down on their commute to campus," she explained. "It will be interesting to see how HyFlex classrooms change the potential population of students we can pull from. As a professor, being able to develop professionally and use the technology to help serve a broader variety of students is worthwhile, and this modality should be here to stay."
Of course, on a campus with more than 10,000 students, a single HyFlex classroom hosting a small handful of class sections can only scratch the surface of what blended and hybrid learning looks like on the 204-acre CSI campus. To that end, with the Library blueprint in place, Kahn and her team attacked the rest of campus, and to date, an amazing 74 classrooms at CSI are now equipped with enhanced Smart technology that has the ability to mirror the HyFlex experience students will get in 1L.
"We've outfitted Smart Classrooms with technology in order to support remote students who are unable to attend a course that meets in-person on campus," explained AVP Kahn. "This technology includes a document camera, a Webcam capturing content written on a whiteboard/blackboard, a conference microphone, and dual monitors. This technology is integrated with Zoom to allow students to participate in class, as if they were in person."
AVP Kahn notes it was a true team effort, one that isn't possible without a lot of pre-planning and collaboration on campus, something she was thankful to have. "Classroom and technology support staff, networking, training, HelpDesk, and Media Services were all involved in this initiative," she noted. "It began with the initial prototype, which required input from everyone. The focus was on keeping it simple, flexible, and accessible. Once the technology was finalized, we had a tight timeline to allow for installation. The IT team collaborated on this initiative on many fronts to see it through."
For CSI Provost and Senior Vice President for Academic Affairs Dr. Michael Parrish, the HyFlex Classroom and the enhanced infrastructure on campus is proof that despite the pandemic and the challenges it presented, it did not stop progress at CSI to provide for a more enhanced remote learning model, something of which he is very proud. "Our IT Division came up with a low-cost, user-friendly solution to allow remote users to participate in classroom activities. This will allow greater flexibility for our students and faculty, something we all need in today's learning environment."
In a world forever changed by COVID, students at the College of Staten Island can expect to see more HyFlex programming in the future. This "new normal" has the capability to reach thousands of remote learners who did not have those options previously at CSI, expanding the reach of the powerful education CSI can provide. "It's opened us up to a new way of teaching that many colleges across the country have been doing for many years," commented Prof. Wegge. "We know we will revert back to being mostly an in-person campus, but the remote and hybrid environment is allowing us to get better at offering an online experience, and it's sure to connect our faculty to so many new learners who otherwise would not have been a part of our community."
To learn more about HyFlex classroom, and the great lengths to which the College of Staten Island has gone to make it a reality on campus, visit the following link below, and look for more HyFlex courses to be introduced in the future.
By David Pizzuto