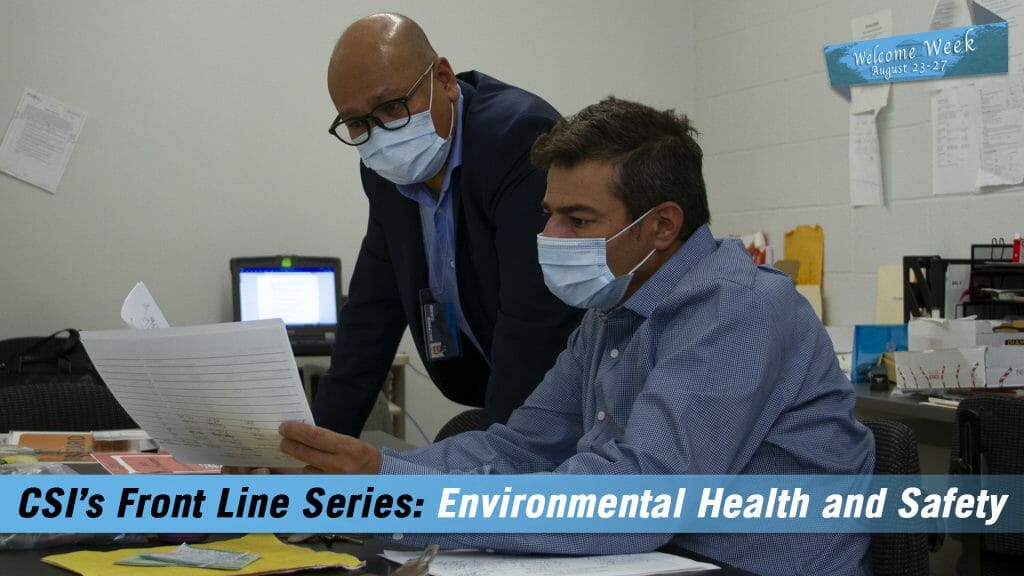 This is the second in a series of articles in CSI Today that will examine the professional effects of the COVID-19 pandemic on the College's Front Line Workers, and their determined efforts to ensure the safety of our campus. The Office of Environmental Health and Safety is under the supervision of Hope Berte, Vice President for Campus Planning, Facilities, and Operations. VP Berte commented that "There are many staff in the division who should be recognized for their outstanding commitment and dedication during these unprecedented circumstances. All have worked under the direct guidance of each of the managers who are spotlighted in this series."
Although a good portion of what it does is behind the scenes, the CSI Office of Environmental Health and Safety (EHS) is constantly on the job, ensuring compliance with protocols to keep members of the campus community from harm's way. ​
When asked about the specifics of what his office does, Abner Felix, the Director of EHS at CSI, recited an extensive list, including enforcing city, state, and federal health and safety regulations, and filing the necessary reports to those agencies to document compliance; inspecting academic and research labs on campus; managing campus-wide hazardous, medical, and radioactive waste programs; ensuring that CSI's EHS plans and programs are in line with those of the University; responding to EHS complaints and emergencies; formulating and implementing campus safety training programs; and even maintaining campus fire extinguishers.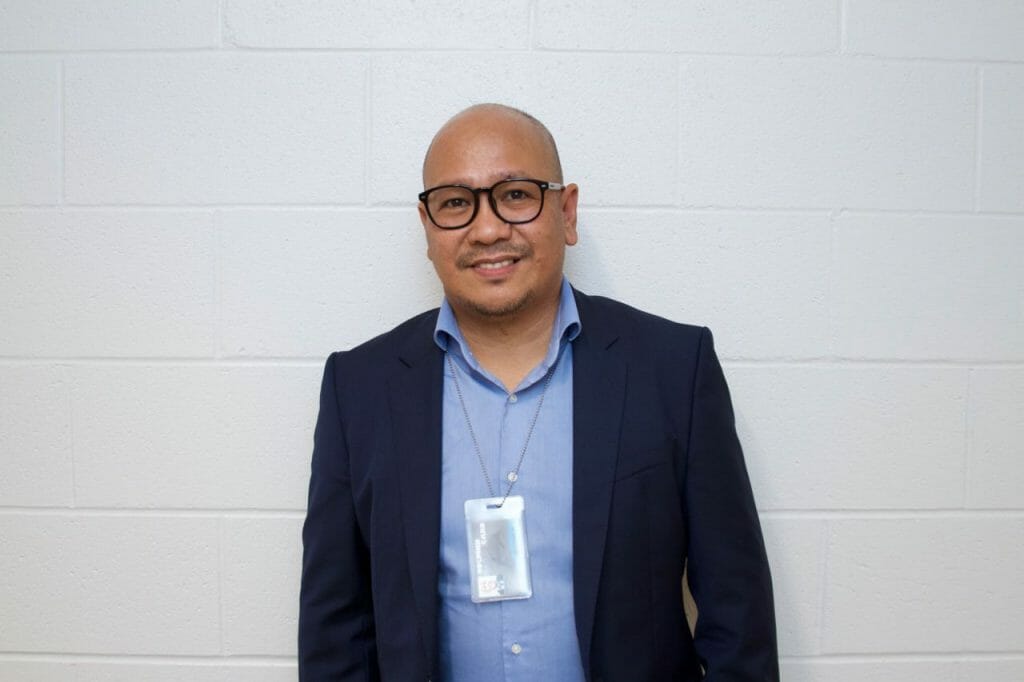 With the advent of COVID-19, and the eventual return of some students and faculty to the campus to conduct ongoing research, Felix noted that all of EHS's responsibilities continued, including the training of essential personnel in "hazard communication, cleaning and disinfection protocol, bloodborne pathogens, proper handling of all other cleaning solutions, what type of PPE to wear, and training on how to don and doff masks, etc." However, there was obviously now a new danger to health and safety that further heightened those responsibilities.
COVID-19 necessitated that EHS staff take on additional responsibilities, especially as COVID regulations kept changing. They were involved in COVID compliance planning, served as internal auditors and inspectors to ensure all necessary COVID-19 safety signage was placed in the proper areas, and provided recommendations on social distancing strategies and guidance to ensure that social distancing barriers were up to code prior to installation. EHS also offered technical assistance in setting up fit-testing protocol for staff, faculty, and students who were working in healthcare settings, off campus. They also guided CUNY EHSRM officials on visits and tours of spaces that had been re-opened.
With plans to further expand the number of people on campus on the horizon for the Fall 2021 semester, EHS continues to ensure compliance with CUNY's and CSI's re-opening guidelines. It is also collaborating with other offices on campus to move toward that goal.
Looking back at his experiences during the pandemic, as well as those of his staff, Felix proudly remembered, "My office staff's constant deliberation and brainstorming for all COVID-related topics and strategies created a cohesive, unified, and effective team in tackling day-to-day challenges in this pandemic."
He also reported that he continues to encourage his staff members to be resilient and attend to their own families' needs, as well. "The toll of this pandemic, due to physical and emotional isolation, was so impactful that I remind them of the importance of strengthening their bonds and connections with their own families and close friends."
By Terry Mares