In March of 2019, Eric Benedetto was in his second semester at the College of Staten Island, enjoying every second of campus life, taking intro courses, making friends, and making a splash on the baseball diamond as a CSI student-athlete. A year later, however, his college experience would change forever when COVID-19 derailed sports, canceled his social calendar, and turned the classroom into a two-dimensional, virtual experience. That's when he made the decision that essentially changed his life. He grabbed his laptop and decided to visit his aunt in Butler, KY.
But Eric's aunt is not just any aunt, she's Jodi Dawson and she runs Atti's Acres, a 200+-acre farmstead that serves as a rescue shelter for pot-bellied pigs and other farm animals. What began as a little getaway from the usual mundane school day spent in his room on Staten Island, turned into a passion right from the start. "I kind of just made the decision to go and fell in love with the experience," said Eric. "The animals were super-friendly and just want to be loved. It was just a great environment where everyone and all the animals were friendly and sweet. It was the best decision I ever made."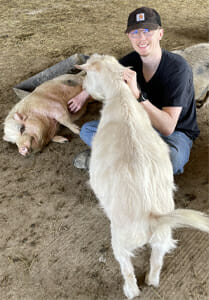 Eric was so consumed with work on the farm, and with the animals, that he not only decided to extend his stay, but he turned his work at Atti's Acres into a full-time volunteer job for weeks and months on the farm. Many of his days included waking up early for feeding, cleaning and grooming the animals and their habitat, preparing their meals, and constructing their environment. The farm contains more than 60 pot-bellied pigs, a pair of rescued meat hogs, goats, donkeys, turkeys, and ducks. The outdoor air, open space, work structure, and his interaction with the animals not only filled up his day, but even got him to concentrate better on his classwork almost 1,000 miles away. "It gave me an escape," he explained. "Going there helped me disconnect from COVID and I felt like I was living a normal life. I would say it helped get rid of the everyday stresses, and in-turn, it made it even easier to concentrate on my schoolwork when I needed to. Being able to connect with the animals allowed me to breathe and refocus on my studies."
So, while many students and staffers yearned for the day the College would reopen its doors to in-person learning, others like Eric were just fine continuing the remote course. He made the decision to dive-in whole heartedly into his online studies, step away from athletics, and visit Kentucky every chance he got to work at the animal rescue. "It was nice knowing that nothing was holding me back from going every chance I could go," he explained. "When I would go, I could stay a month or two at a time." In all, Eric spent nearly half of of the 2019-2020 and 2020-2021 school years in Kentucky at the farm, and has already visited for two months in 2022. He is planning his next trip for August.
Eric made the decision to pursue Computer Science at CSI from the start, and graduated this past December. He did ultimately report back to CSI to finish up his studies and graduate in person, and he currently works remotely as a Front End Engineer at Amazon. He is also pursuing his Master's degree in Computer Science at his own pace. His graduate work has him working with Professors like Dr. Zhanyang Zhang at the Mesonet Weather Station and the FloodNet Gateway on top of Building 1R, where he used to spend countless hours working on his pitching. While he remains physically active and into sports, he does yearn for his escapes to Atti's Acres.
"At first I was a bit taken aback when my aunt told me that the pigs were smarter than dogs and how friendly and loving they can be," he explained. "But it's true. They come up to you and lay on their sides to get petted or they'll rub their snouts on you to show you affection. Especially those that were neglected or abused, they just want to be friends."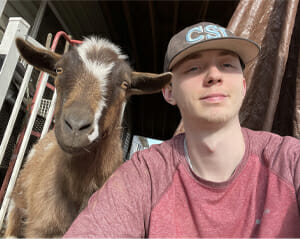 Eric understands his story is ironic, noting how his passion in the rural setting of Kentucky sits in contrast to some of the high-end tech work his studies and his career may push him into, but he looks at it as a way to bridge both worlds. "The two disciplines don't directly mesh, but I'm someone who likes solving puzzles and using logic to apply to situations and I find myself using that when I'm building their homes or fences, and strategizing my days on the farm," he explained. "Tech can be a lot of computer and corporate work and it can get a little mundane. These breaks I get on the farm really get me to experience the different flavors and follow the passions that I really love."
Eric knows that even though remote learning is here to stay at places like CSI, that soon the modality of learning will be almost fully in-person and it may not allow for others to get to experience what he has. In that respect, he is thankful for the positive experiences he had in the face of the pandemic. "It's been bittersweet. Even at the farm we've lost people to COVID, but being able to create friendships and get close to people in an intimate setting taking care of animals really makes me grateful," he said. "These are the things you hold onto and what the experience has taught me." He urges future CSI classes to not lose sight of the integrative experiences that may be available to students outside the classroom while they pursue their degrees. Especially in a remote environment, those opportunities are there.
"My employers fully support what I do on the farm and working from there when I want to and even potentially moving there," Eric said. "I might have never had the opportunity without a remote environment."
To learn more about Atti's Acres, visit their Facebook Page.