After two years of virtual meetings, the Mid-Atlantic Association of Colleges of Business Administration (MAACBA) returned to an in-person annual conference at Villanova University on October 2-4, 2022. The Lucille and Jay Chazanoff School of Business was well represented, as Founding Dean Susan L. Holak was joined by faculty members Dr. Lauren Bock Mullins and Dr. Simone Wegge, and Associate HEO Warrick Bell.

The MAACBA organization is comprised of business schools from the Middle States region that includes New York, New Jersey, Pennsylvania, Delaware, Maryland, and Washington, DC. More than 100 representatives from approximately 50 institutions attended this year's event. Dr. Holak served as the organization's Immediate Past President and Chair of the Nominating Committee.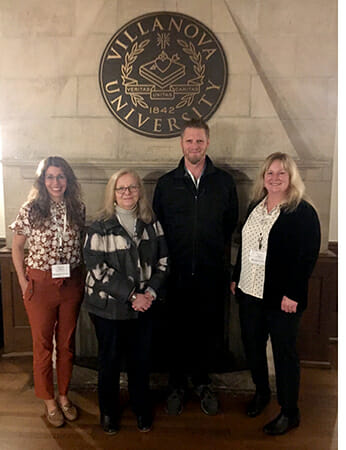 "It has been an honor and privilege to work with such talented, dedicated business school leaders from the mid-Atlantic region in my term on the MAACBA Board of Directors, share insights with them, and have their mutual support in leading our respective organizations," Dr. Holak said. "I was delighted to have my colleagues from the Chazanoff School join me at this year's in-person conference."
According to Dr. Holak, the Chazanoff School of Business has gained exposure and established a presence in the organization in recent years, and this year's conference provided an invaluable networking opportunity.
"It is always energizing and invigorating to connect with colleagues and peers from other institutions," said Bell. "There was a real sense of community among the participants this year after such a long lapse without being able to meet. We connected and considered what had been learned over the past two years of disruption, and discussed how we should use that knowledge to shape our future actions to serve our students and our faculty."

The 2022 MAACBA conference theme, "From Great Resignation to Great Negotiation: How to Retain Talent in 2022 and Beyond," brought business school leaders, faculty, career and placement professionals, and members of industry together around these pressing topics. Keynote speakers, Chris Gheysens, CEO of Wawa, and Christine Dorfler, NBC Sports, addressed issues around employee retention, women's transitions in the workforce, quiet quitting, remote vs. in-person work, and much more.
Dr. Mullins, a Villanova graduate herself, enjoyed returning as a member of the CSI faculty. "It was a wonderful experience to be back at my alma mater. It was an excellent conference with many timely panels for educators and I was glad to be able to return with insights to share with my students at CSI. Businesses today are looking to hire creative problem solvers who are willing to learn and able to effectively communicate. Students who understand and embrace inclusivity and sustainability will also be in high demand."
Panels at the convention featured deans and placement professionals who spoke about student preparation, the ethics and etiquette of job searches, the role of business schools in society, and the provocative topic: the next 100 years of business education. Dr. Holak had the privilege of introducing the plenary panel on Attracting, Developing, and Retaining Diverse Talent.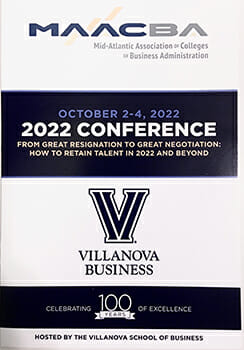 In addition to learning from panelists and exchanging ideas with fellow attendees, conference participants enjoyed Villanova's marvelous hospitality and visited some campus facilities. Attendees were even treated to a conference dinner at the Finneran Pavilion
"We interacted with academic and industry leaders on timely topics related to hiring, employee retention, and future workforce needs, and have returned to campus with new insights to share. It was terrific to see Villanova's facilities close-up too," said Dr. Holak
Dr. Wegge agreed, stating, "The MAACBA conference afforded me the opportunity to use the shared experience of the conference to plan and strategize with colleagues for the future of the CSB."
The Lucille and Jay Chazanoff School of Business was also a proud sponsor of the 2022 MAACBA Conference, and the group is already looking forward to next year's event.
For more information about MAACBA and the 2022 conference, please see the following link: http://www.maacba.com/