The Staten Island FerryHawks of the Atlantic League of Professional Baseball, recently put the finishing touches on their debut, 2022, season, and the College of Staten Island was there for a big part of it, as students from WSIA, 88.9FM, were on hand to assist the FerryHawks with the production of their audio stream for the stretch run of the season, bringing all the action to FerryHawks fans who couldn't make it to the ballpark.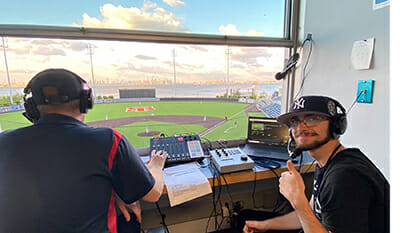 The partnership started in August between the FerryHawks and WSIA, as Staten Island's only FM radio station was solicited to assist the Minor League Baseball affiliate in bringing FerryHawks baseball live to the radio airwaves and to YouTube. Students got to work firsthand with Staten Island FerryHawks media personnel, working the engineering booth and assisting with the radio production surrounding the live call by FerryHawks' play-by-play broadcaster Jonny Wincott, which included getting on the air and calling some of the action alongside him.
"Being in the booth day in and day out was the coolest experience I've ever had," said Sean Cuccaro. "It was a dream come true and I'm going to cherish that forever. It was amazing getting to actually call a real baseball game and I hope I get a chance to do it next year."
The collection of CSI students certainly had a great time, but also got to appreciate the fast-paced energy surrounding a sports broadcast, knowing that hundreds of Staten Island and out-of-market listeners would faithfully be listening. "I was really nervous because I was scared of messing up, but I also got so much help from the station members, which I'm so grateful for," said Miriam Ibrahim, who had never worked radio for a sporting event before. "It makes me really happy seeing WSIA broadcasting for the FerryHawks. It was such an amazing opportunity that I hope we'll be able to do again."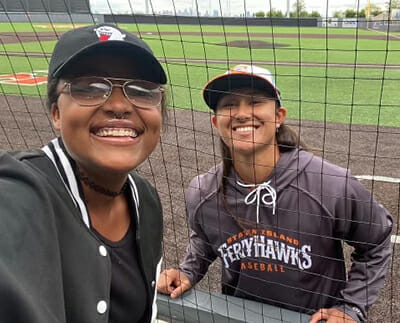 It certainly appears that the partnership is one on which both sides can build into the future. The FerryHawks play a 132-game schedule that spans from late-April through September, and this portion of the season went so well that next year WSIA hopes to be at Staten Island University Hospital/Community Park from Opening Day through the FerryHawks' potential postseason.
"It was an amazing experience being able to engineer the games firsthand along with being able to interview the players," Janiel Fuentes commented. "The most exciting moment was when I got to interview and take selfies with (pitcher and outfielder) Kelsie Whitmore. She is absolutely my idol and inspiration."
To learn more about the Staten Island FerryHawks visit their Website. To become a part of the great team at WSIA, contact 718.982.3050.