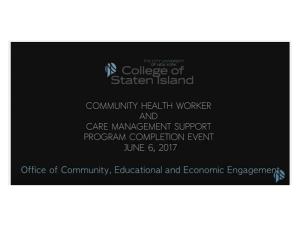 On June 6, faculty, students, and their family and friends gathered together at CSI's Green Dolphin Lounge to celebrate the accomplishments of adult learners and a growing relationship with an outstanding community partner.
The event, which was covered by Borderland Films, featured the accomplishments of Community Health Worker (CHW) and Care Management Support (CM) program graduates; their funder, the Staten Island Performing Provider System (SIPPS); and the College's Office of Community, Educational, and Economic Engagement, which designed and implemented both programs.
Both programs afforded current healthcare-sector incumbent workers the opportunity to earn a credential pertinent to new and evolving roles in healthcare while attaining three college credits.  The CHW program was created for adults with little or no college experience, while the CM program was designed to introduce college graduates, who are working in the field of care management, to CSI's Master of Social Work (MSW) program and equip them with a care management credential.
Community Health Workers attended Anthropology 100 with Dr. Philippe Marius to better understand the theory behind societies while accruing general education credits; Care Managers studied the opioid epidemic with Dr. Christine Flynn-Saulnier in Social Work graduate course SWK 684 Drugs and Alcohol.
The programs enrolled healthcare workers at different stages of their careers in education, yet the broad goals of the programs were the same: to provide existing healthcare workers the access to training and education to help them grow in their careers while providing the best support to their clients, who are most often Medicaid recipients. The clients whom the graduates will serve often have difficulty accessing quality healthcare due to cultural, language, and/or socioeconomic barriers. Thanks to the students' funder, SIPPS, the learning opportunities may have been free, but student commitment was unwavering.
The CHW program ran from October to May, meeting two evenings per week. Care Management students attended class one evening a week during the Spring 2017 semester, along with one full Saturday a month. Despite full-time work, family responsibilities, and for many, a long lapse since being a student, the students flourished. Both programs were designed for the adult working student, featuring small class sizes and a combination of faculty who possess both academic and industry expertise. For CHW students, this equated to two teachers in the classroom at all times. At the start of the CHW program, lead instructor, Deeana Dobrer provided technical training, while CSI English Department faculty member Sara Paul,  helped students enhance their literacy skills, which are not only critical for the CHW role, but in Anthropology 100, which they took in Spring 2017.  Once enrolled in ANT100, Paul remained present in class with Dr. Marius.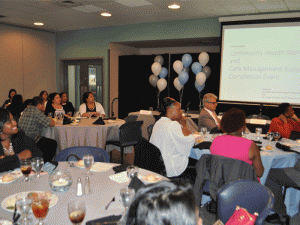 "Partnership with the Social Work Department and the Sociology and Anthropology Department truly made these programs a success," says Chris Cruz Cullari, Executive Director of the Office of Community, Educational, and Economic Engagement. Cruz Cullari and his Office, who formed the relationships with SIPPS and academic departments, ultimately designed and implemented both programs. Appropriately named the Office of Community, Educational and Economic Engagement, the Office does just that, bridging the Staten Island community's needs appropriately with the resources of the College to foster Staten Island's economic growth.
"This graduation tonight–with its emphasis on community partnership, health-related concerns and solutions, education, and career development–is the very embodiment of the College's stated commitment to 'Borough Stewardship,'" commented Ken Iwama, JD, Vice President for Economic Development, Continuing Studies, and Government Relations.
The CHW and CM programs are just two examples of the work that SIPPS is committed to partnering with the College to implement. Work is already underway to offer another CHW cohort in Fall 2017 and a Recovery Peer Advocate program is currently being designed. For more information about any of the programs mentioned in this article, contact Chris Cruz Cullari at chris.cruzcullari@csi.cuny.edu.
View the video of the Ceremony, which includes interviews and background, on CSI's YouTube page.
Complete list of students of the 2017 CHW and CM Support Programs:
CHW Completers:
Aruni Aniju, Staten Island University Hospital
Jacqueline Aust Sierra, Richmond University Medical Center
Siobhan Baptiste, Staten Island University Hospital
Vistell Burton, Staten Island University Hospital
Charles Cooper, Project Hospitality
Cintia Cruz, Richmond University Medical Center
Maribel Espinosa, Project Hospitality
Donna Graziano, Community Heath Action of Staten Island
Justine Jackson, Richmond University Medical Center
Barbara Reffell, Staten Island University Hospital
Sandy Richardson, South Beach Psychiatric
CM Support Completers:
Beata Biszkowiecki, Community Health Center of Richmond
Samantha Cancilla, Project Hospitality
Stavros Delardas, Community Health Center of Richmond
Jamie Guiterrez, NYC Health+Hospitals Sea View
Cherri Hugee, The Jewish Board
Derek Louie, The Jewish Board