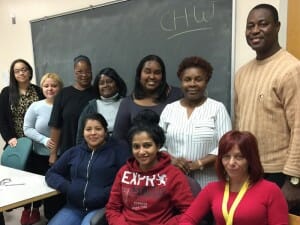 Community Health Worker (CHW) training, the first product of the partnership between Staten Island Performing Provider System (SIPPS) and the College of Staten Island (CSI), officially commenced on October 24. The training equips existing healthcare professionals with the knowledge and skills required to transition into Community Health Worker roles while they earn CHW certification and three college credits from the City University of New York (CUNY).
"The Office of Continuing Studies at CSI offers many training programs that enable adults to enter and advance in the workforce, especially in the healthcare industry. However, this program is something unprecedented at the College and perhaps throughout the City, and SIPPS has been instrumental in making that possible," states Chris Cruz Cullari, Executive Director of the College's Office of Continuing Studies.
The CHW role is growing as a result of the Delivery System Reform Incentive Payment (DSRIP) Program, a mechanism of New York State to reform Medicaid. Under DSRIP, New York State will fundamentally restructure the healthcare delivery system by reinvesting in the Medicaid program, with the primary goal of reducing avoidable hospital use by 25% over five years.
CHWs will work directly with Medicaid recipients who may have difficulty accessing healthcare providers, systems, or medicine due to cultural, language, and/or socioeconomic barriers. CHWs extend the reach of providers into underserved communities, reducing health disparities, enhancing communication, and improving health outcomes and overall quality measures. Working in conjunction with healthcare providers, human services, and the communities they support, CHWs bridge gaps in patient care. This coordinated care model ultimately addresses patients' medical and social needs in a more holistic and meaningful way.
SIPPS, like other PPS entities throughout the State of New York, is implementing DSRIP into the Staten Island healthcare community and SIPPS Senior Director of Human Resources and Workforce Development William Myhre is ensuring that Staten Island healthcare professionals receive the training and preparation needed to support DRSIP.
"There is more to DSRIP than just reducing avoidable hospital use.  DSRIP will provide the funding to offer critical training to healthcare professionals on Staten Island, which will ultimately elevate the quality of healthcare on Staten Island. It seemed intrinsic to develop a partnership with CSI to make this happen," Myhre said.
CHW training is just one example that demonstrates SIPPS's commitment to the Staten Island healthcare workforce, but for the 11 healthcare incumbents who began training in October, the opportunity is an immeasurable one.
"This amazing opportunity will help me gain new skills in order to help others reach their health goals. Career-wise, I will be able to move forward in my organization.  It will help me connect to other people of different backgrounds in my community and help me adapt in different situations," states Cintia Cruz, Medical Assistant at Richmond University Medical Center.
SIPPS has gone beyond coordinating the training; in fact, it is funding more than 75% of the tuition for students to attend training as well, and in cases like Justine Jackson's, SIPPS is funding 100% of her tuition. When Jackson learned that she wasn't eligible for any additional tuition benefits through her union or employer, SIPPS stepped in.
"I was ready to withdraw from the program. As a new CHW at Richmond University Medical Center, I knew that I, and ultimately my patients, would benefit from my training, but there wasn't any way that I could afford to pay the tuition on my own," stated Jackson. "I am so thankful for SIPPS and specifically for Bill Myhre for making this happen for me."
Designed for the adult working student, the program boasts an exceptionally small class size and a combination of faculty who possess both academic and industry expertise.
"This program was designed very intentionally," continues Cruz Cullari. "Adult students have a wealth of knowledge to share with their classmates based on their work and life experiences and we knew it was critical to take that into account when designing this training. Every activity has been designed to promote student sharing, to actively engage students in the learning process and to practice the skills they will need for job success."
The cohort of 11 will initially attend CHW technical training two evenings per week with Deeana Dobrer, Project Coordinator for SI CARES at Coordinated Behavioral Care, and CSI English Department faculty member Sara Paul. As students receive technical CHW training, they also enhance their literacy skills, which are critical for the CHW role. "As Literacy Instructor, my goal is two-fold," stated Paul. "I want our students to possess the literacy skills needed to excel in the CHW role. This includes writing comprehensive case notes, easily interpreting complex reading material, communicating effectively with patients and other healthcare professionals, and presenting well in the community. I also want to prepare them to excel in in the college portion of the program."
In February 2017, CHW students will transition into Anthropology 100 while they continue to receive CHW technical instruction. The pairing of the courses was deliberate. Anthropology, which studies the various aspects of humans within past and present societies, will expose students to the history and theories that drive the work they do as CHWs. The class will be open only to CHW program participants and the cohort's Literacy Instructor will attend these classes with students to help them with the reading and writing assignments they will receive as well as to make connections between the theory they learn in the course to the application in CHW training.
Attending classes two evenings per week over six-months is an immense commitment for a working adult, but students are up for the challenge.
"I recognize that you have to invest time to reap the reward. In this case, my biggest reward will be my ability to help my clients and I know that this program will prepare me for it," states CHASI employee Donna Graziano. Other students have multiple goals, like Maribel Espinosa. "This opportunity is perfect for me.  Not only am I gaining skills that I need to perform in my case manager role at Project Hospitality, but I am also gaining credits toward my degree." Espinosa is currently a pursuing a dual Bachelor's degree in Spanish and Business Management. Like all CUNY students attaining bachelor's degrees, she must take Anthropology 100.
Community Health Worker training will run until May 2017, but it isn't the only training that will be implemented to support DSRIP. Myhre noted that, "I was thoroughly excited to launch Community Health Worker training, but DSRIP is a fast-paced initiative that will require more than just CHW training. I've already begun working on my next collaboration with the College to offer learning and development opportunities coming in 2017 to our many other healthcare professionals."