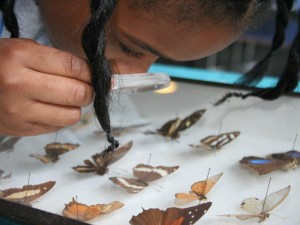 The daughters and sons of faculty members and staff had an opportunity to experience what is it like to work at the College of Staten Island recently during CSI's annual Take Our Daughters and Sons to Work Day.
View the CSI Today Photo Gallery.
Besides seeing what a day with Mom or Dad is like, the kids also had the chance to explore the College through a number of exciting events.
The day began with a Welcome Reception in the Campus Center Green Dolphin Lounge, followed by hands-on biology and geology displays, hosted by Lecturer Alan Benimoff, Professor Lisa Manne, and Senior CLT Lisa Ghigliotti. After exercising their minds, the children received a physical workout at a basketball camp with Sports and Recreation Center staff in Building 1R.
Following a mid-day refueling with pizza and a sundae bar, and a photo with CSI President Dr. Tomás D. Morales, the kids embarked on an action-packed afternoon, which included a tour of campus radio station WSIA and an interactive music lesson from Professor Bill Bauer.
Later in the afternoon, the attendees received their own CSI student IDs, visited the CSI Astrophysical Observatory with Dr. Irving Robbins, and wrapped up the day in the Center for the Arts Black Box Theatre for a session entitled "Green Eggs and Lorax" with Professor George Sanchez.
Originally established as "Bring Your Daughter to Work Day," this annual event allows parents to bring their daughters, and sons, to work to experience, first-hand, what they do, so their children can learn about their parents' professions.
This year's Take Our Daughters and Sons to Work Day at CSI was sponsored by the Office of the President and the Office of Academic Affairs, and was coordinated by the Take Our Daughters and Sons to Work Committee.