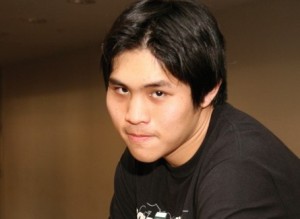 When Benjamin Hui came to the U.S. from China at the age of 17, he could barely speak English. Thanks to his U.S.-based cousin, Amy Leong, who took him under her wing and helped teach him English, Benjamin flourished at CSI, working with Assistant Professor of Chemistry Dr. Michal Kruk. After graduation, he went into the Doctoral Program in Chemistry at Carnegie Mellon University (CMU).
"At CMU," Hui reports, "I am in the same group as Saadyah [Averick], working with Prof. Matyjaszewski. Our group is a polymer science research group. We focused a lot on kinetic, mechanism studies as well as applications of polymeric products. My specialty is to combine polymer and inorganic components together to optimize both chemical and physical properties. Such materials retain the chemical  advantages of the polymer and inherit thermal, mechanical, and optical properties from the additive particles. For example, we intended to make commercially available polymer products stronger while keeping their flexibility."
Hui is glad to be a part of this program. "Being here gives me a great opportunity to get closer to science," he says. "In this group, the majority of senior graduate students already have a master's degree and are very experienced; they are all very nice and helpful. We also have a lot of collaboration opportunities with different companies, (e.g., PPG, Dow, Air Force, etc.) This prepares us to work as professional scientists in the future."
Hui recalls that he is thankful for the help of a number of people at CSI. "First is my previous research adviser Prof. Kruk. The second is Mrs. Evans-Greene, the Discovery Institute Director for Minority Access Programs. The third is Dr. Geoff Hempill, the Coordinator of Fellowships and Scholarships Career at the Scholarship Center."
More specifically, he notes, "The main thing that brings me to this point is Prof. Kruk. He is a very nice person, who helped me in all dimensions of my development. When I was still fresh to America with not much knowledge in chemistry, he taught me everything, step by step, and asked me to go further to graduate study. I also like every professor I had when I was at CSI. When I needed recommendations to graduate school, I got very nice recommendation letters from more than 15 professors.
Looking ahead to further research in environmental and energy issues after graduating from CMU, Hui says, "I will try to become a professor who is as helpful as Prof. Kruk to pass his spirit to the next generation."
Read more from Eye on CSI on CSI Alumni Today.