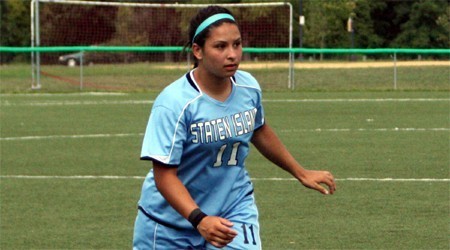 In the wake of Hurricane Sandy, the CUNYAC and the College of Staten Island has announced that it will serve as the host facility for the 2012 CUNYAC Women's Soccer Semifinals.  The games were originally scheduled to take place today but were swept away due to the recent weather.  The games will be played instead tomorrow at the CSI Soccer Complex.  At 12:30pm, No. 2 City College of New York will take on No. 3 Lehman College, and then at 3:00pm, No. 1 CSI will host No. 4 John Jay College.
The two winning teams will then play again on Saturday, November 3 for the rights to the CUNYAC Championship and an automatic bid into the NCAA Division III National Championship Tournament.  The Final will be played at 5pm at Randall's Island.  Following that, at 7pm, the Men's Championship at Randall's Island will take place between No. 1 Baruch College and No. 2 Brooklyn College.
NOTE:  The Quarterfinals of the Women's Volleyball Championships were postponed on Tuesday and a make-up is not definitive at this time.  Make-ups are being targeted for Friday for the Quarterfinals and Saturday for the Championship, but times and venues have not been announced.
Please keep in mind that while the College of Staten Island will be open tomorrow and the athletic events will take placem that classes at the College are canceled.