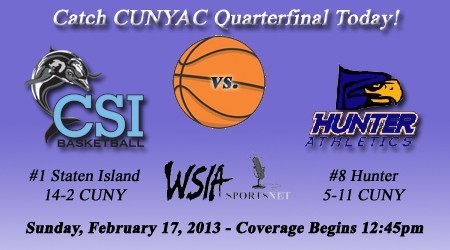 The College of Staten Island Men's basketball squad will begin its half of the 48th Annual CUNYAC/Con Edison Men's Basketball Championship this afternoon. The No. 1 seeded Dolphins will be taking on No. 8 Hunter College at 1pm at the Sports & Recreation Center. If you cannot make it to the game today, be sure to listen in live via two great options. WSIA, 88.9FM, will be calling the game live on the radio dial and at www.wsia.fm, as will CSI SportsNet at www.csidolphins.com/live.
The Dolphins finished the season 19-5 overall and 14-2 in the CUNYAC, finishing with a season finale win over the same Hawks team they will face today. They defeated the Hawks (8-17, 5-11 CUNYAC) twice this season, winning74-58 on their home floor in mid-January and then following up with a 78-65 win in the finale this past Tuesday. CSI has won the last five games over Hunter, but this is their first postseason meeting since 2001.
The winner of today's game will advance to the CUNYAC Semifinals on Thursday, February 21, at City College of New York. CSI-Hunter would play the winner of No. 4 Brooklyn College vs. No. 5 Medgar Evers College, at 6pm. In other quarterfinals today, No. 2 Baruch College take on No. 7 CCNY and No. 3 John Jay College plays host to No. 6 York College.