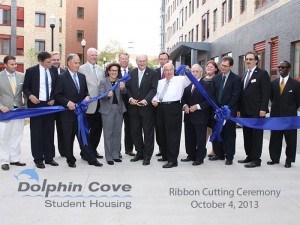 STATEN ISLAND ADVANCE — No longer a "commuter-school" where students simply take classes and leave campus, the College of Staten Island (CSI) now houses an international community due to new dorms at the Willowbrook campus.
"The new residence halls are at 97 percent capacity, with well over 400 students," said William J. Fritz, CSI interim president, at a ribbon-cutting event for the Dolphin Cove Student Housing Complex, which is located on seven acres of the north side of the college's grounds
The new residents of the dorms include natives of other countries, as well as Staten Islanders.
"The students come from as far away as Greece, France, Japan and the Netherlands, and as close as two blocks from campus," said Fritz. "It's really exciting to see such a group of students coming together to participate in the life of the college."
And students say that the dorms already feel like "home."
"Already there is such a new sense of student pride, and campus and student involvement has increased," said Andrea Curry, president of CSI student government.
However, Ms. Curry admitted that the dorms opened to a bit of a "rocky start." New dorm residents had reported a lack of hot water, some loose fixtures and lobby finishing touches had needed to be completed in the first week the dorms opened.
"All Staten Islanders know the road does not come paved; it is filled with cracks and bumps," said Ms. Curry. "However, in passing these hurdles, any endeavor grows and improves, and Dolphin Cove is no exception."
Said CSI spokesman, "When we first opened there were a few punch list items to be addressed and they were addressed within the first few days of opening."
Borough President Jim Molinaro reminded attendees at Friday's event that the CSI campus was once the site of Willowbrook State School, a reviled facility shuttered in 1987 after generations of people were warehoused there.
"This was a mental hospital for children from 1947 to 1987. Thousands of children were condemned for life here. In fact, it was called a snake pit where children were abused physically, sexually, and otherwise. And we closed it down, and rightfully so," said Molinaro.
"Today we use this campus to go forward to create a better life. So we won't have another Willowbrook 10 or 15 years from now. We realize it was wrong and we never want to repeat it," he added.
The Dolphin Cove Student Housing Complex consists of two buildings — one four-story, the other five. Students moved in to the buildings this semester.
"Living on campus can transform and enrich a student's college years. The campus is now home. Buildings and grounds become familiar, faculty becomes known, and once anonymous classmates become roommates," said William P. Kelly, interim chancellor of the City University of New York (CUNY).
"Once the campus is yours, the college experience is yours as well," he added.
The two buildings feature single- and double-occupancy units, eight resident assistant units, and two professional staff residents, according to college officials.
All private and semi-private units for students feature kitchens with a four-burner range top, oven, refrigerator and garbage disposal, as well as dedicated bathrooms.
"With 170,000-square-feet and 454 beds between them, the buildings are serving a variety of student living options," said Iris Weinshall, CUNY vice chancellor for facilities planning, construction and management.
With lounges, meeting rooms, and a state-of-the art fitness center, "it has everything students need and feel to be at home at this school," she added.The pace of construction after ground was broken in March 2012 was touted at the event — especially since the target opening of the dorms didn't change in the aftermath of Hurricane Sandy.
"We were in the midst of construction about a year ago and a catastrophic storm came. This is another example of people binding together and not pushing the deadline," said James E. Wilhelm III, vice chancellor for facilities planning, construction and management.
This article is written by Tracey Porpora for the Staten Island Advance and is © 2013 SILive.com. It is reprinted here with permission.