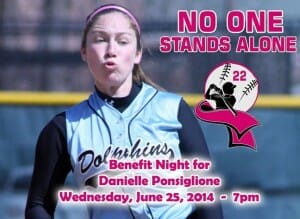 Recent College of Staten Island graduate and standout softball star Danielle Ponsiglione will be the guest of honor this week when she returns to the CSI diamond, but the multiple record holder and three-time CUNYAC Pitcher of the Year, is battling a new competitor, and many former teammates, family and friends will be on hand for a benefit game in her honor.  Diagnosed with Stage IV Melanoma, Ponsiglione is in her second round of battling the disease, her first coming shortly after her career at CSI in 2012.  To offset medical expenses associated with treatment, CSI will host the event this Wednesday, June 25, 2014, at 7:00pm at the CSI Softball Complex.  The evening will feature multiple three-inning games from a variety of teams.  Entry fees collected from the participants as well as money generated from raffles and prizes will be donated to Ponsiglione's family.
Appropriately titled "No One Stands Alone," the evening will feature many present and former CSI Alumni, many of whom played side-by-side with Ponsiglione, going head-to-head on the diamond.  Members of the New York Panthers, New York Havoc and Staten Island Saints will also be on-hand with the theme focused on raising revenue.  Raffle prizes will be awarded and concessions will be available as well, all in the name of one of CSI's finest alumni.  Current CSI Head Coach Stella Porto is a principal organizer of the event, and was quick to cite the importance of the event in a recent interview with the Staten Island Advance.
"Danielle represents (a combination) of strength and courage," said Porto. "She was someone who overcame many injuries throughout her career with me at CSI and I'm praying that the strength and courage continues for what (I believe) is the game of her life."
A two-sport star at CSI, Ponsiglione also played volleyball, but the setter was best known for her dominance in the circle for the Dolphins, where she helped guide the Dolphins to a pair of CUNYAC titles and NCAA Division III Championship Tournament appearances.  In her stellar four-year career, Ponsiglione claims al-time career records for wins (55) and complete games (77).  She logged almost 200 more innings pitched than any other Dolphin, topping out at 543.0, and her career 2.32 ERA stands third all-time, while her career 337 strikeouts rank second.  Ponsiglione's 20 wins during the 2010 season are also a CSI record.  Alongside her athletic prowess, Ponsiglione was a valued member of the CSI family, lending herself to CSI's valued Student-Athlete Advisory Committee and a collection of community service projects.
Ponsiglione has stayed close to softball and to CUNY.  Her father, Michael, just completed his first season as Head Coach for Brooklyn College, where he won Coach of the Year honors.
To sign up to participate in the event, or to donate funds or offer up a raffle prize, please contact CSI Head Coach Stella Porto at (908) 463-1300.  In-person registration at the CSI Softball Complex will begin at 6pm on Wednesday.  Should rain interfere with the festivities, a rain make-up date will be announced.