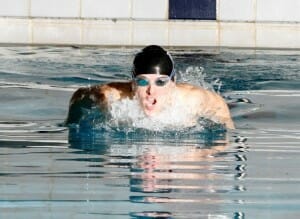 FINAL SCORES / FINAL RESULTS – The College of Staten Island men's swimming and diving team marched to their third-straight CUNYAC Championship this afternoon, pulling away from the field on the Meet's final day, securing a 68 point win over both Lehman College and Baruch College, who tied for second place.  The CSI women earned a solid third-place finish, finishing behind leaders Hunter College and Baruch College.
The Dolphins nearly doubled their lead on the Final day of competition, a day featuring a total of 12 events, six on each side, and each carrying significant value.
The 1,650-yard Freestyle kicked things off.  The women fared well, with senior Kelly Walsh just missing a medal in fourth place and Caitlin McLoughlin finishing in seventh.  Then, in the highly important men's division, CSI continued their dominance, with Derek Villa securing a 22-second win with a time of 17:38.57.  For extra measure, Stephen O'Driscoll earned the bronze in the event with a time of 18:34.28.
Samantha Escobedo was next to shine for CSI, this time on the 200-yard Backstroke, where she took a tight race with a time of 2:23.37.  CSI's Chris Pinto earned a silver in the same event on the men's side with a time of 2:12.48, while Jeff Dietrich took seventh in the field.  Next up, in the 100-yard Freestyle, Ewa Wojciechowska garnered a silver medal with a time of 55.11, but the time was good enough for a new CSI record.  Naomi Gaggi turned in eighth place with a 1:02.10 time.  In the men's half, Nick Defonte took the bronze in the event with a time of 50.35, less than two seconds behind the top time of Baruch's Jacky Lau.
The final two individual strokes were next and that's when CSI was able to cushion on the men's side and secure their bronze standing on the women's side.  In the 200-yared Breaststroke event, Dakota Dawkins secured a medal, gaining a silver with a solid mark of 2:38.10.  Jonathan Gorinshteyn did the same for the men with his time of 2:17.01, while Brandon Lei secured fifth-place.  Finally, in the 200-yard Butterfly, CSI captain Tim Sweeney got off one of the finest performances at the entire event, racing in at 1:53.61, winning the event by nearly 19 seconds and gaining an NCAA B-Cut time in the process and a new CUNYAC Championship Meet record.  Tommy Gaspar and Christopher Sorenson took fifth and sixth, respectively.
The final event of the 400-yard Freestyle Relay was last and the only thing in doubt was the final scores.  The CSI women's team of Walsh, Gaggi, Escobedo, and Wojciechowska finished third in the event, while the men's team of Defonte, Villa, Gorinshteyn and Sweeney left little to doubt, powering to a first-place finish with a time of 3:18.74, a little over two seconds better than Baruch, which was able to tie Lehman with their finish.
For the Dolphins and Head Coach Michael Ackalitis, the championship on the men's side and the solid third-place finish by the women signified how hard the team worked all season.  "I couldn't be prouder of how we swam this weekend," he said.  "Everyone performed at their best and it shows in the times and in the overall team score.  It was a great effort."
CSI scored 568 points on the men's side, with Baruch and Lehman pulling in next with 500 apiece.  Brooklyn took fourth place with 264 points, while York finished in fifth with 107.  On the women's side, Hunter won with 553, followed by Baruch a distant second with 408 markers.  After CSI's 337.5, Lehman garnered 277.5 followed by John Jay with 201, Brooklyn with 175, and York with 67.
For his efforts, CSI's Sweeney was named the Meet Most Valuable Player, an award he took home last year as well.  In his career, Sweeney has won all 21 of the CUNYAC Championship races he has participated in.
While CSI's win on the men's side wasn't altogether unexpected, the fact that CSI was able to put that much distance between the competition was a testament to how well they ultimately performed at the Championship.
"We knew that the depth of our competition was going to make these meets very tough to place the way we did," Ackalitis noted.  "It took every member of our swimming and diving teams from top to bottom to step up and move up to get the most points possible.  This was a great example of how we performed as a team to achieve these results."
Up next for CSI now will be the Metropolitan Swimming and Diving Championships at Rutgers University two weekends from now.  For now, the Dolphins will enjoy the victories and bask in CUNYAC supremacy once again.