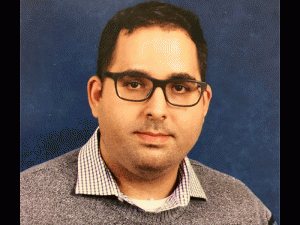 Two alumni from the College of Staten Island (CSI) are celebrating their accomplishments in graduate school, work, and research.
Omri Shick '16 is a graduate student in MSEd in science education. He graduated with a Bachelor of Science (BS) in Chemistry and Teaching in May 2016 and is a full time science teacher at the Lavelle Prep Charter School.
Stephanie Sheehan '16 is a graduate student in MSEd in mathematics education. She graduated with a BS in Mathematics as a Noyce Scholar and is also a full time math teacher at the Lavelle Prep Charter School.
Shick is the first author of the paper "The Effect of Short Mathematics Instruction in High School Chemistry Course on Student Chemistry Achievement," which has been accepted as a full paper at the American Educational Research Association (AERA) annual meeting. This paper represents results of his research completed as an undergraduate student at CSI with Irina Lyublinskaya, PhD, Professor of Curriculum and Instruction as his advisor and co-author on the paper. He was also a recipient of a CSI Undergraduate Research Award to complete this study.
The AERA, founded in 1916, is concerned with improving the educational process by encouraging scholarly inquiry related to education and evaluation and by promoting the dissemination and practical application of research results.  AERA's more than 25,000 members are faculty, researchers, graduate students, and other distinguished professionals with rich and diverse expertise in education research. AERA is international in scope.  Nearly 5% of members, representing over 85 countries, reside outside the United States. Over 28% of AERA members are students—approximately 6,500 graduate students and 600 undergraduate students.
Sheehan completed two research projects in her senior year at CSI. Her first project was completed in the fall 2015 in collaboration with Dr. Lyublinskaya and Mikhail Epshtein, PhD, of St. Petersburg State University in Russia, and focused on the effects of short-term international programs for pre-service STEM teachers on their professional growth as teachers. The paper was accepted as an oral presentation at the 13th International Congress of Mathematics Education and was presented in Hamburg in July 2016. The Congress is held every four years and is under the auspices of the International Commission on Mathematical Instruction. Over 3,000 mathematics educators from all over the world attended the Congress last summer. It is considered one of the most important international events in mathematics education.
In spring 2016, Sheehan received a CSI Undergraduate Research Award to conduct research on effects of virtual and physical manipulatives on retention of mathematics knowledge for students with disabilities. As part of this research, Sheehan developed geometry activities for her students. Based on this work, her group submitted a proposal and have been accepted to present a workshop at the Long Island Mathematics Conference (LIMACON) on March 17, 2017 at SUNY Old Westbury, NY.