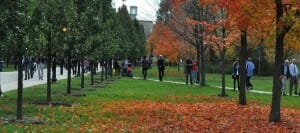 The College of Staten Island is one of the top colleges in the U.S., according to Forbes, the second accolade from the publication within the last six months.
"Increasingly, people are recognizing that CSI is a destination campus – a place where student success guides all of our work and where exceptional faculty are engaging in remarkable scholarship and research across many disciplines," said College President William J. Fritz. "We welcome the recognition from Forbes."
Forbes ranked CSI 504th on the publication's "America's Top Colleges" list, which was announced Aug. 28. The College ranked 179th among public institutions. The complete list includes 650 institutions and there are almost 3,000 accredited four-year institutions in America.
In April, Forbes ranked CSI 111th out of the top 300 "best value colleges" in the nation.
Since its founding in 1956, the College of Staten Island has produced more than 60,000 alumni and annually more than 15,000 students enroll in courses. It's also the most diverse campus in Staten Island and offers the best value for money.
As a senior campus of The City University of New York (CUNY), the College offers a broad range of academic programs in the liberal arts and sciences, in the professions that lead to Associate's, Bachelor's, Master's and Doctorate degrees.
Additional doctoral programs are also available on campus in collaboration with The CUNY Graduate Center. From enriching undergraduate studies to completing doctoral theses, CSI students are provided with the tools and opportunities they need to earn a world-class education.