College of Staten Island Distinguished Professor of English Sarah Schulman has been named a finalist for two major book awards. Pen America has named Schulman's book, Let the Record Show, A Political History of ACT UP New York, 1987-1993, a finalist for its PEN/Kenneth Galbraith Award for Nonfiction. Nominated alongside four other deserving works, the PEN/Galbraith award winner will be announced at the Pen America Literary Awards Ceremony on February 28 at The Town Hall in New York City. Let the Record Show is also one of ten finalists for the Gotham Book Prize for Best New York City-based Book, with a winner expected to be announced in March.
The New York Times recently heralded Let the Record Show as a "revelatory exploration–and long-overdue reassessment–of the rise of ACT UP, New York, a broad and unlikely coalition of activists from all races, genders, sexualities, and backgrounds, that…took on the AIDS crisis with an indefatigable, ingenious, and multifaceted attack on the corporations, institutions, governments, and individuals who stood in the way of AIDS treatment for all."
One of National Public Radio's (NPR) and The Guardian's Best Books of 2021, Let the Record Show has also been heralded as one of Buzzfeed's Best LGBTQ+ Books of 2021 and was named one of Electric Literature's Favorite Nonfiction Books of 2021. Schulman is extremely proud of the acclaim it has received. "I'm very pleased with the success of the book and I am most excited that it has been appealing to younger readers, those people who want to be involved in social movements, and people who can learn from ACT UP as a model for how to create change," she said. "The reviews have been amazing and it's good to see the material is not just looked at as nostalgic history, but as something very much alive and useful in contemporary life."
Pen America dubs their nominees in the PEN/Galbraith Nonfiction category as "distinguished books possessing notable literary merit and critical perspective that illuminates important contemporary issues." According to its Website, Gotham Books created The Gotham Book Prize in July 2020, to support New York City and its arts community in the wake of COVID-19. The Prize is awarded annually to the best book published that calendar year that either is about New York City or takes place in New York City.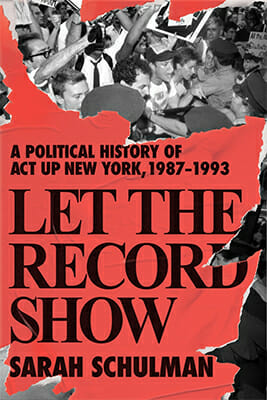 Schulman, who covered the AIDS crisis and the LGBTQ community in New York as a journalist in the late-1980s for such publications as The Village Voice and The Nation, knew that telling the ACT UP story, a group that she herself was a part of, was important given the media landscape of that time. ACT UP saw a meteoritic rise to power that helped frame the national advocacy and social justice movement surrounding AIDS treatment for all. While ACT UP still exists today, Schulman focused on the years that saw it rise to power, from 1987to 1993.
"The Internet revolution didn't happen until the late-1990s, and so a lot of what ACT UP did in terms of advocacy was unprecedented for its time and relatively undocumented, especially given the relationship that media had with the gay and lesbian community during that time," she said. "ACT UP was so successful at organizing and bringing about systemic change at a time when media was not helpful and the Internet was nonexistent."
For Schulman, telling the story of ACT UP is almost 40 years in the making, given her time as a journalist covering the AIDS crisis and as an ACT UP member. In preparation for writing the book, she conducted 188 interviews over 18 years, creating the ACT UP Oral History Project, which to date has had over 14 million hits. She then spent the last three years piecing the oral history together and writing Let the Record Show. In the end, she hopes the book can serve as a historical reference and a teaching resource for successful advocacy and change.
"It would be very hard to learn what groups like ACT UP were able to do if not for some of this research and documentation," she explained. "I think it's most helpful now to young activists in a period where communities need structural changes. We've gotten incredible feedback on how tactics employed by ACT UP are being used for advocacy agencies all over the country and the world. It's inspiring."
An accomplished novelist, playwright, and screenwriter, Schulman is already working on future projects. She is currently working on two novels, and her play, The Lady Hamlet, will have its world premiere at The Provincetown Theater this summer. She is also working on a feature film about the writer Carson McCullers to be directed by Jessica Goldberg. Let the Record Show has also been optioned for television by Concordia and Killer Films.