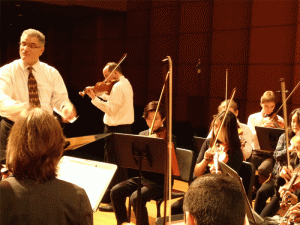 The CSI Orchestra is a unique initiative between Curtis High School and the College of Staten Island (CSI), in which students who ordinarily may not have the opportunity to participate in musical events can pursue their passion. This semester, through a generous grant from the Frank and Lydia Bergen Foundation, students from the Orchestra were able to experience working with musicians from the Staten Island Philharmonic. Their hard work and dedication will culminate in a concert on May 7 in the Center for the Arts Springer Concert Hall at CSI at 3:00pm, when the professional musicians will perform with the students.
CSI vocal soloist Maria Zakharycheva and a student soloist from Curtis High School will perform, and there will be an appearance by the Rutgers String Quartet playing a concerto grosso by Geminiani. The event is organized and directed by Professor Dan Auerbach with Professor James Minenna as co-director Curtis liaison.
"It is through Prof. Minenna's tireless efforts that recruitment is successful each year. He has been a wonderful colleague with whom to collaborate in this worthy musical endeavor," said Auerbach.
Director of Development for the Division of Institutional Advancement and External Affairs Mary Anne Semon also noted the importance of past donors and the support of the College.
"This concert would not have been possible if it were not for the generous grant by the Frank and Lydia Bergen Foundation. This grant enabled the continued funding of the orchestra, following a generous donation by Gordon Di Paolo, who gave seed money to start this exciting initiative. The CSI administration's efforts have also aided in the continued existence of this orchestra, the only such venture in Staten Island," commented Semon.
The program will include staples from the classical repertoire, including "Spring" from Vivaldi's The Four Seasons, Mozart's Symphony No. 40, and Bach's "Erbarme Dich" from the St. Matthew Passion.
General admission to the concert is $10 and free for CSI students.